Punch Recipe
Come Party With Me: Beach Bonfire — Drinks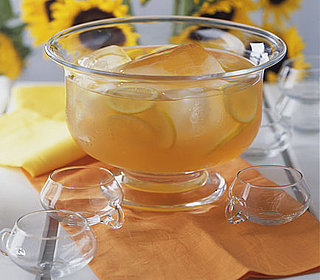 When planning an outdoor party, like a picnic at the park, a barbecue at the lake, or a bonfire at the beach, it's important to get as much prep work done in advance as possible. For the drinks, start by filling several coolers with ice, beer, sodas, water, and white wine. Pack a basket with a versatile plastic glass, a bag for recyclables, and a couple of bottle openers. Then, take the time to make one special drink, preferably a punch or cocktail recipe that serves a crowd.
One I highly recommend is this peach rum punch. It's a potent but delicious mixture of simple syrup, fresh lemon juice, amber rum, cognac, and peach brandy. Since it's Summer and peaches are in season, I would slice a bunch of fresh peaches and float them in the punch. Place the liquid and fruit mixture in a sealable container and pack, standing upright, in one of the coolers. Learn how the party-ready punch is made now.
Ingredients
1 cup sugar
3 1/2 cups water
1 1/2 cups fresh lemon juice (6 to 8 lemons), strained
1 (750-ml) bottle Jamaican amber rum
12 oz Cognac (1 1/2 cups)
2 oz peach brandy (1/4 cup)
Directions
Stir together sugar and 3 1/2 cups water in a large bowl or pot until sugar is dissolved.
Add lemon juice, rum, Cognac, and brandy and chill, covered, at least 3 hours.
Makes 10 cups.
Information
Category

Drinks, Punch

Cuisine

North American