Q&A Interview With 2010 Bocuse d'Or USA Semifinalist Percy Whatley
Ahwahnee Chef Percy Whatley Gears Up For the Bocuse d'Or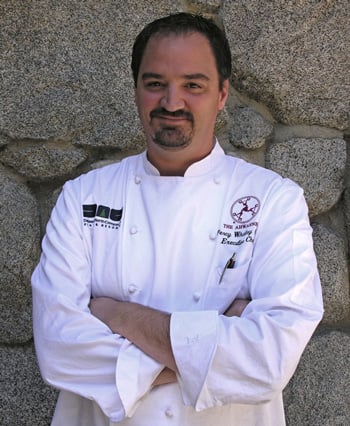 While the world gears up for next week's Winter Games, the culinary industry is waiting with bated breath for its own version of the Olympics: the Bocuse d'Or.
This Saturday, Feb. 6, at the Culinary Institute of America in Hyde Park, NY, 12 semifinalists will compete for one coveted position on the Bocuse d'Or USA team. The winning chef and commis (assistant) will compete for the world title at the Bocuse d'Or in Lyon, France, next year. While at Chefs' Holidays, I sat down with Percy Whatley, The Ahwahnee Hotel's chef and a returning semifinalist, to hear how he plans to take Team USA all the way. More, after the break.
YumSugar: Congrats. How did you prepare yourself for this Saturday's competition?
Percy Whatley: I'd do Ahwahnee duties from 8 to 5, then from 5 to midnight train, then go home and sleep, and wake up and do it again. We had done that for 16 days straight.
YS: Does being the only Californian add to the pressure?
PW: I was very surprised to be the only one from California but proud to represent. The pressure is getting my ingredients there. I would say 80 percent of the [other competitors] can drive the stuff up to Hyde Park. I have to fly it or ship it.
YS: What'd you think of the Top Chef Bocuse d'Or episode?
PW: I thought Michael would be the one to beat. I'm a Top Chef fan and I really like Kevin Gillespie because he sticks to the basics. I think he's going to be a hard contender to beat. [Editor's note: Gillespie has since dropped out of the competition.] I really doubt the five of them really knew what Bocuse d'Or was even though they said being involved with that would be super. I think the creative license of the producers is evident, because a lot of American chefs don't really care about that [competing].
YS: Do you anticipate this year's Bocuse d'Or semifinals to be different from the last?
PW: [Last time], Daniel [Boulud] worked with Epcot . . . and they brought out all the bells and whistles. I don't think that's going to happen at the CIA. I don't think they're going to focus on the show of the Bocuse d'Or; they're going to focus on the chefs. They'll already have a captive audience of 2,000 students, so we'll have better attendance. [The CIA in Hyde Park] is my alma mater, and it's not as big as the venue that was at Epcot. It's going to be interesting to see what the venue looks like when it finally goes down.
YS: Why didn't it happen for you last time?
PW: Even though everything tasted good, there was no real complexity to the taste. It wasn't deep — not big power flavors like, "Wow, that tasted really cool!" Now, I'm just going to cook the food that I like to cook, know that the depth of flavor is there and the harmony is there.
YS: Who do you see as your biggest competition?
PW: I haven't studied the competition; I've studied the possibility of the judges. That's what really matters. Jennifer Petrusky's been there; she's been on the podium as the commis of the third place finisher so she knows what it's going to take to win.
YS: What will Team USA need to do to place at the Bocuse d'Or in Lyon?
PW: To win, America needs to drop any American influence to their food. There's only one American judge; everyone else isn't going to care about American food. Dropping any kind of premonition that we will win because it's a brutally competitive front, and it's hard to crack. We have to drop that ego. Going in there with humility I think will end up helping in our quest.
Photo Credit: Kenny Karst, DNC Parks & Resorts at Yosemite, Inc.