Q&A With Mexican Made Easy's Marcela Valladolid
Chatting With Marcela Valladolid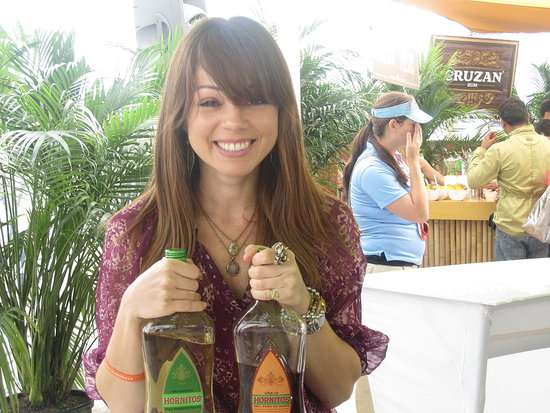 If you haven't watched the Food Network's newest show, Mexican Made Easy with hostess Marcela Valladolid, be sure to check it out this Saturday. I've enjoyed every episode since it debuted in January and can't wait to experiment with Marcela's recipes. Over the weekend, at the South Beach Wine and Food Festival, I had the chance to get to know the chef better. She was mixing tequila and rum cocktails at the Horintos booth and took some time to chat with me. To learn more about Marcela and find out what she had to say, read more.
The Mexican-born hostess, whose first language was Spanish, comes from a family of chefs — her aunt opened Baja California's first cooking school. She attended the culinary institute in LA before becoming an editor at Bon Appétit. Marcela not only has a cookbook, Fresh Mexico, but a Spanish language television show as well called Relatos con Sabor.
PartySugar: Both Ingrid Hoffman and Daisy Martinez have Latin American-themed shows on the Food Network. However, they haven't been too successful. Why do you think your show will be different?
Marcela Valladolid: I'm not exactly sure why these shows weren't successful. Both of the hosts were great and they make good food. The only thing I can say is that people want Mexican food. There's a real hunger for Mexican flavors. It's not a coincidence that salsa is the number one selling condiment in America, people love Mexican food and most people don't know how to make it at home. My show teaches them how to do that.
PS: How do you feel about people comparing you to Giada de Laurentiis?
MV: It's a huge compliment!
PS: What Mexican pantry ingredients do you recommend always having on hand?
MV: Chipotles in adobo. It has such a great flavor and works in both sweet and savory preparations. I use it in everything. I mix it into hummus, sour cream, apricot preserves. Tortillas, I always have corn tortillas. And while many people associate cumin with Mexican cuisine, I didn't grow up with it. I prefer to use fresh herbs rather than spices and dehydrated ingredients.
PS: What's your advice for the everyday home cook?
MV: To be adventurous! Don't be afraid to give your kids something different; their palates can handle it. I'm a single mother, but my 4-year-old son eats everything. Take into consideration what they like, then go for it.
PS: What's your guilty pleasure food?
MV: Burgers.
PS: If readers were to make one of your recipes, which one would you recommend?
MV: It would have to be my chilaquiles. They are a quintessential Mexican dish that's really easy. Be sure to shallow fry the chips, you can't bake them. The thing is, with my recipes and cooking Mexican cuisine, you have to work your way up. If you aren't used to some of the strong flavors yet, you won't like it. But if you start from the bottom and go from there, you'll learn how to love it.