Quick and Easy Croissant Doughnuts
Notes
While vanilla pudding is used as a filling here, experiment with fruit jellies and nut butters. For a garnish, add sprinkles, fresh fruit, or citrus zest.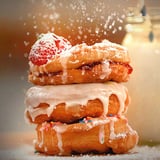 Ingredients
For dough:
Canola oil 
2 (8-ounce) canisters Pillsbury refrigerated crescent dinner rolls
1 (4-ounce) snack-size container of vanilla pudding
For decoration:
6 cups powdered sugar, divided
1 teaspoon vanilla extract
1 cup milk
1/4 cup granulated sugar
1/2 teaspoon ground cinnamon
1 lemon, juice and zest separated
Directions
To fry dough: In 2-quart heavy saucepan, pour enough oil to fill at least 2-inch deep. Heat over medium heat to 350ºF.
Open dough canisters and divide dough into sets of two triangles. Press perforations together on each pair to seal and form a rectangle. Stack 2 rectangles on top of one another, press them together, and then fold widthwise. Press down. Repeat with remaining dough.
Use 3-inch round biscuit cutter to cut round from each rectangle stack and then a 1-inch round biscuit cutter to cut the hole in the center. Keep remaining dough.
Fry dough in hot oil for 45-90 seconds on each side or until golden brown and cooked through. Drain on paper towels and allow to cool before glazing.
To make vanilla glaze: In a medium-sized bowl, mix 4 cups powdered sugar and vanilla together and then add milk, 1 tablespoon at a time, until a smooth, glaze-like consistency forms.
To make cinnamon sugar: In a small bowl combine granulated sugar and cinnamon and mix.
To make lemon glaze: In a small bowl, mix 2 cups powdered sugar, lemon juice, and half of the lemon zest together, until a smooth, glaze-like consistency forms. Reserve remaining lemon zest for garnish.
To assemble: Split a fried and cooled croissant doughnut in half and place 2 tablespoons of vanilla pudding in center. Sandwich halves back together, and drizzle glaze of your choice over top. Roll in cinnamon sugar, optional. Serve immediately.
Information
Category

Desserts, Doughnuts

Cuisine

North American

Yield

Makes 6