Quick and Easy Ginger Chicken Veggie Stir-Fry Recipe
Fast & Easy Dinner: Ginger Chicken Stir-Fry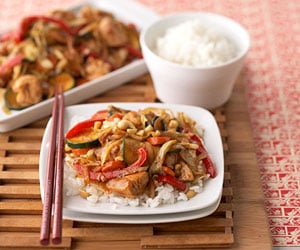 Instead of ordering takeout on this Friday night, stay in and whip up a healthful, but uncomplicated chicken stir-fry. How simple is this? You toss zucchini, carrots, onion, and red pepper (or whatever veggies you have on hand) in a searing hot pan to cook, then throw in boneless skinless chicken breasts. Season with your favorite store-bought stir-fry sauce and ground ginger. Serve with cooked rice and you've got a crowd-pleasing meal quicker than it could be delivered. Sound delish? Then get the recipe now!
Ingredients
1-1/4 cup sliced zucchini (1 medium)
1/2 cup sliced carrot (1 medium)
1/2 cup sliced onion (1 medium)
1 small red sweet pepper cut into strips (3/4 cup)
2-1/2 cups shredded green cabbage (about half of a small cabbage head)
1 tablespoon cooking oil or peanut oil
12 ounces skinless, boneless chicken breast halves or turkey tenderloins, cut into 1-inch pieces
1/2 cup bottled stir-fry sauce
1/2 teaspoon ground ginger
3 to 4 cups hot cooked white or brown rice
3/4 cup chopped cocktail peanuts or cashews
Directions
In a 12-inch skillet or wok cook and stir half of the zucchini, carrot, onion, pepper, and cabbage in hot oil over medium-high heat for about 2 minutes or until crisp-tender. Remove vegetables from the skillet. Repeat with remaining vegetables; remove from the skillet.
If necessary, add more oil to the hot skillet. Add chicken to the skillet. Cook and stir for 3 to 5 minutes or until chicken is no longer pink. Push chicken from center of the skillet. Add stir-fry sauce and ginger to center of the wok. Cook and stir until bubbly.
Return the vegetables to the skillet. Cook and stir about 1 minute more or until chicken-vegetable mixture is coated and heated through. Serve over rice. Sprinkle servings with chopped peanuts.
Serves 6.
Information
Category

Poultry, Main Dishes

Cuisine

Chinese