Quick and Easy Recipes and Menu For Super Bowl Party
Come Party With Me: Super Bowl — Menu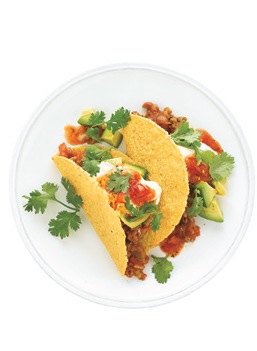 One of my favorite parties of the year — the Super Bowl — is just around the corner. While I'm not a huge fan of football, I do love game day eats, so when my friends Alex and Ryan asked me to help them host the ultimate bash, I couldn't say no. Alex and Ryan are good-looking, young, successful bachelors with only a little bit of experience in the kitchen. That's why I'm suggesting a menu of easy, fast, and classic dishes.
To start, there's nothing quite as crowd-pleasing as artichoke-spinach dip. This cheesy variation is simple, all you have to do is mix the ingredients together and bake. Also on the appetizer spread? Pizza pockets! Store-bought pizza dough makes these hand-held snacks a cinch. Feel free to change the filling to suit your family's needs.
Finally, during halftime, we'll feast on a Mexican selection of store-bought guacamole, salsa, queso dip, and homemade quick beef tacos. These recipes are ideal for the beer-guzzling bachelor in your life, share them now.
Cheesy Spinach and Artichoke Dip
From Kraft
Ingredients
1 can (14 oz.) artichoke hearts, drained, finely chopped
1 pkg. (10 oz.) frozen chopped spinach, thawed, drained
3/4 cup grated parmesan cheese
3/4 cup mayonnaise
1/2 cup shredded mozzarella cheese
1/2 tsp. garlic powder
Directions
Heat oven to 350°F.
Mix all ingredients; spoon into 9-inch quiche dish or pie plate.
Bake 20 min. or until heated through.
Serve with crackers and assorted cut-up fresh vegetables or crostini.
Makes about 3 cups.
Information
Category

Dips, Appetizers

Cuisine

North American
Ingredients
1 tablespoon olive oil
8 ounces Italian turkey sausage
1 cup tightly-packed arugula (about 1 ounce)
4 ounces cream cheese, room temperature
1/3 cup grated Parmesan, plus 1/4 cup
1/2 teaspoon salt
1/4 teaspoon freshly ground black pepper
1 (13.5-ounce) package of store-bought pizza crust (recommended: Pillsbury)
All-purpose flour, for rolling out pizza dough
1 egg, beaten (for egg wash)
1 1/2 cups marinara sauce, store-bought or homemade
Directions
Heat the olive oil over medium-high heat in a medium-sized, heavy skillet. Add the sausage and cook until crumbled and golden, about 5 minutes.
Add the arugula and cook until wilted. Turn off the heat and let cool about 10 minutes.
Add the cream cheese, 1/3 cup Parmesan, salt, and pepper and stir to combine. Set aside.
Preheat the oven to 400 degrees F. Roll out the pizza dough on a lightly floured surface to a thin 20 by 12-inch rectangle. Cut the rectangle in half lengthwise. The cut each half into 8 equal rectangles.
Spoon topping onto 1 side of each of the rectangles. Using a pastry brush, brush the edges of the rectangle with egg wash. Close the rectangle of pizza dough over the topping. Use a fork to seal and crimp the edges.
Place the pizza pockets onto a parchment paper-lined baking sheet. Brush the top of each pizza pocket with egg wash. Sprinkle with the remaining Parmesan. Bake until golden, about 15 to 17 minutes.
Meanwhile, heat the marinara sauce over low heat in a medium saucepan. Serve the hot pizza pockets with the marinara sauce alongside for dipping.
Makes about 16 pockets.
Information
Category

Appetizers, Finger Foods

Cuisine

Italian
Ingredients
1 1/2 pounds ground beef
1 teaspoon ground cumin
1 1/2 cups jarred salsa
kosher salt
8 taco shells
1 avocado, diced
1/2 cup sour cream
1 cup fresh cilantro
Directions
Heat a large skillet over medium-high heat. Add the beef and cook, breaking it up with a spoon, until browned, 6 to 8 minutes. Spoon off and discard any drippings.
Stir in the cumin, 1 cup of the salsa, and 3⁄4 teaspoon salt and cook, stirring occasionally, until heated through, 2 to 3 minutes.
Fill the taco shells with the beef mixture and top with the avocado, sour cream, cilantro, and the remaining 1⁄2 cup of salsa.
Serves 4.
Information
Category

Main Dishes, Beef

Cuisine

Mexican