Quotes From Alton Brown's Demo at the New York City Wine and Food Festival
On Bourbon, Bacon, and Butter: Alton Brown Gets Funny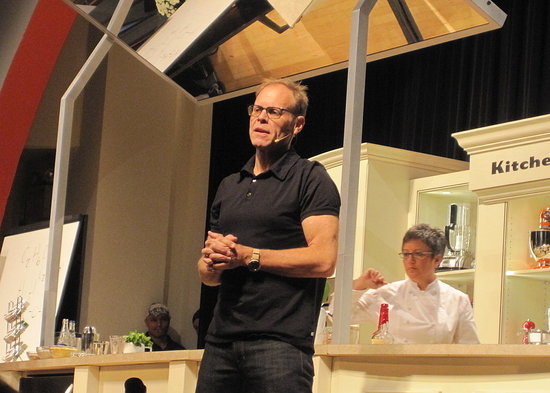 The first time I went to an Alton Brown demo, I was a little disappointed the scientific chef focused on cooking for kids. Luckily, at this year's Food Network New York City Wine and Food Festival, Brown was more rated R than PG. Although it was 11 a.m., he got things started by teaching the crowd how to make mint juleps.
The theme of his demo was quintessential Southern cuisine with the defining flavor of the South being bourbon. While cooking bacon bourbon ice cream and bananas foster, he joked about the differences between Yankees and Southerners in the kitchen and had some pretty hysterical and memorable quotes. To see what he had to say about everything from parenting to Martha Stewart, read on.
On his demo being the first one of the festival: "I'm just the opening act. I'm opening for Giada who's opening for Rachael Ray, who's opening for Julia Child! Yes, Ray is going to raise her from the dead. She's the opening act for Guy Fieri."
On the South's love of bacon: "The relationship a Southerner has with the pig is not quite biblical, but it's very important. Bacon is important. Barbecue is important."
On Martha Stewart not being from the South: "You know, if she had done time in a Southern prison, I think her show would be better."
On having children: "They're fun to make, hard to live with."
On Paula Deen's love for butter: To make bananas foster, you need 1/4 cup packed brown sugar and a huge chunk of Paula Deen. What you haven't heard? She copyrighted butter. Paula Deen now owns butter."
On the most important cooking skill one can have: "Learn how to cook eggs. They are the ultimate culinary multitasker and you can make anything with them."