Rambutan Martini Cocktail Recipe
Happy Hour: Rambutan Martini
When Frieda's got wind of how much I loved their feijoas, they sent me a giant box of rambutans. I'm very quick to embrace exotic new fruit, but I'm not going to lie: I'd never tried rambutans before or even seen them in the flesh, and they looked kind of scary.
After mustering up the courage to tackle one, I realized they're a lot like lychees, only covered with a layer of spiky red hair. Break them open and you're privy to an opalescent jewel of a fruit, the same milkiness and size of a lychee, with a woody pit on the inside. I love lychee martinis so much that I couldn't resist making the same merry with rambutans.
Inspired by last week's Scarlet Harlot, I used the same muddling method to bring out the fresh juice in these redheaded berries. Do the same when you read on.
Rambutan Martini
From Susannah Chen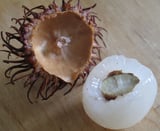 Ingredients
Ice cubes
1/2 cup pitted, peeled rambutans (fresh is preferred, but canned will work, too)
1-1/2 ounces ginger-flavored vodka, such as Skyy Infusions Ginger
1/2 ounce Cointreau
1 ounce club soda
Directions
In a cocktail shaker, combine rambutans and muddle until they are broken up and have released their juices, but not completely pulverized.
Fill the shaker halfway full with ice, then add ginger-flavored vodka, Cointreau, and club soda. Shake vigorously, then strain into a martini glass.
Serves 1.
Information
Category

Drinks, Cocktails

Cuisine

North American
Do you have any beverages that are worth raising a glass to? Be sure to share your drink recipes and favorite cocktail sightings with us in the YumSugar Community!