Raspberry Chocolate Pie Recipe
Celebrate the Season With Raspberry Chocolate Pie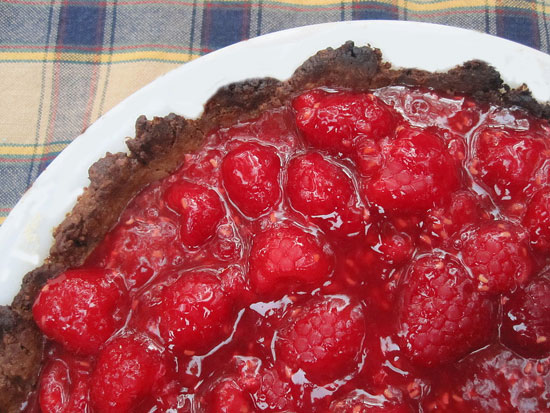 Everyone has culinary issues and one that I'm constantly working on is my fear of dough. Pizza dough, bread dough, pasta dough, pie dough — I'm totally intimidated by it all. However, last Summer, in an attempt to face my (irrational) fear, I started making pies. Peach pie, blueberry pie, cherry pie, raspberry pie. With each pie I made, it became a little easier.
It's been months since I made a pie, but with the bounty of ripe fruit at the market calling to me, I was inspired to try this chocolate raspberry pie. From the ultimate pie queens at Martha Stewart Living, this pie is divine. The dough is chocolate pate sucree and the filling is a layer of chocolate ganache covered with a luscious raspberry topping.
Although I ran into a little difficulty with the dough, it was rewarding to slice into the finished pie. Want to show off your pie-making skills with this decadent dessert? Check out the recipe.
Ingredients
For the crust
1 1/4 cups all-purpose flour
3 tablespoons sugar
2 tablespoons unsweetened Dutch-process cocoa powder
Salt
1 stick cold unsalted butter, cut into small pieces
1 large egg yolk
3 tablespoons to 1/4 cup ice water
All-purpose flour, for parchment
For the filling
4 ounces bittersweet chocolate, coarsely chopped (3/4 cup)
1/2 cup heavy cream
1 tablespoon unsalted butter, cut into small pieces
Pinch of coarse salt
For the topping
1 1/2 pounds raspberries (5 cups)
3/4 cup sugar
2 tablespoons plus 1 teaspoon cornstarch
Coarse salt
1/3 cup water
Directions
Make the crust: Pulse flour, sugar, cocoa, and 1/2 teaspoon salt in a food processor until combined.
Add butter, and pulse until mixture resembles coarse meal, about 10 seconds. Add yolk, and drizzle 3 tablespoons ice water evenly over mixture. Pulse until mixture just begins to hold together (dough should not be wet or sticky). If dough is too dry, add more water, 1 tablespoon at a time, and pulse.
Shape dough into a disk, and wrap in plastic wrap. Refrigerate until firm, about 1 hour.
Preheat oven to 375 degrees. Roll out pate sucree to a 1/8-inch thickness between 2 sheets of lightly floured parchment.
Fit dough into a 9-inch pie plate, and trim crust to a 1-inch overhang using kitchen shears. Fold edges under, and press to

seal

. Crimp as desired. Prick bottom of pie all over with a fork. Freeze for 15 minutes.
Line crust with parchment, leaving an overhang on all sides. Fill completely with dried beans or rice. Bake for 25 minutes.
Remove from oven, and remove beans and parchment. Bake crust until bottom is completely dry, 10 to 15 minutes more. Let cool for 30 minutes.
Make the filling: Place chocolate in a heatproof bowl. Bring cream to a simmer in a medium saucepan over medium heat; pour over chocolate, and add butter. Let stand for 5 minutes. Add salt; whisk until smooth.
Pour filling into piecrust. Refrigerate for at least 1 hour.
Make the topping: Combine 1 cup raspberries, the sugar, cornstarch, and 1/4 teaspoon salt in a small saucepan, crushing berries to release some juice. Stir in water, and bring to a boil. Boil, stirring, until mixture is thick and liquid is clear, 2 to 3 minutes. Transfer to a large bowl, and let cool for 5 minutes.
Add remaining 4 cups raspberries; very gently stir to coat. Let stand for 15 minutes to cool slightly, then spoon over pie. Refrigerate for 15 to 30 minutes.
Serves 10-12.
Information
Category

Desserts, Pies/Tarts

Cuisine

North American