Raspberry Scones Recipe
Berry Tempting: Fast Raspberry Scones
After satisfying my curiosity about the fine distinction between biscuits and scones, I decided I needed to heed my physical craving for them, too. And given my near-obsession with raspberries this month, what better way than to pull together a quick raspberry scone?
The best part of this recipe is the fact that it doesn't require a mixer of any kind; just a food processor — something I couldn't live without, anyway. In half an hour, these babies were in the oven, and 15 minutes later, they were in my mouth.
It's best to eat the batch within a day, so make these for a crowd. Or, you can follow in my gluttonous footsteps: I meant to sample one out of the oven, but wound up eating at least three. The recipe? It's right here.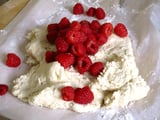 Ingredients
2 1/2 cups all-purpose flour, plus more for work surface
1/4 cup plus 1 tablespoon sugar
1 tablespoon baking powder
3/4 teaspoon coarse salt
1/2 cup (1 stick) cold unsalted butter, cut into small pieces
3/4 cup buttermilk
1 large egg yolk
1 1/2 cups fresh raspberries (6 ounces)
Directions
Preheat oven to 400 degrees. In a food processor, pulse together flour, 1/4 cup sugar, baking powder, and salt. Add butter and pulse until pea-size pieces form. In a small bowl, whisk together buttermilk and egg yolk. Slowly pour buttermilk mixture through feed tube into processor, pulsing until dough just comes together.
Transfer dough to a lightly floured work surface and sprinkle raspberries on top. Knead three times to fold in raspberries (there may be loose pieces of dough and a stray berry or two). Gather and pat dough into a 1-inch-thick square and cut or pull apart into 2-inch pieces. Place pieces, about 2 inches apart, on two parchment-lined rimmed baking sheets and sprinkle tops with 1 tablespoon sugar.
Bake until golden brown, 15 to 18 minutes, rotating sheets halfway through. Let scones cool slightly on sheets on wire racks. Serve warm or at room temperature. (Store in an airtight container, up to 1 day.)
Makes 20.
Information
Category

Breads, Breakfast/Brunch

Cuisine

North American