Raspberry-Swirl Greek Frozen Yogurt Recipe
Scream For It! Raspberry-Swirl Greek Frozen Yogurt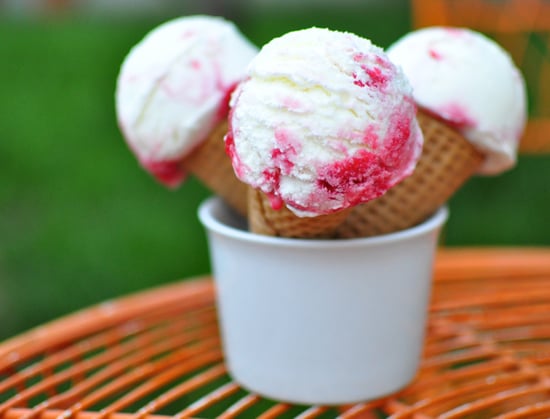 Greek yogurt is wildly popular, so why not use it for the perfect refreshing Summer treat: Greek frozen yogurt with raspberry swirl. This thick yogurt is easy to employ as an ice cream base — especially since you avoid the temperamental custard process. If you can't find Greek yogurt, you can actually make your own by simply straining regular yogurt.
This tangy and sweet frozen yogurt is a great base for just about any seasonal fruit or berry, so feel free to experiment with other combinations. There are two ways to achieve the perfect swirl; one is to layer the frozen yogurt and fruit puree several times, and when you scoop it out, it will swirl on its own. The second technique is to very gently mix the frozen yogurt and fruit puree in a large bowl, but the key here is to undermix it, to ensure a swirl in the end. Stay cool these last days of Summer with homemade froyo! Read more for the recipe.
Ingredients
3/4 cup whole milk
3/4 cup heavy cream
2/3 cup sugar
2 cups Greek yogurt
1 teaspoon vanilla extract
1 cup raspberries
1/2 cup sugar
Directions
In a small pan, add the milk, cream and sugar. Cook to just dissolve the sugar, about 2-3 minutes. Set aside to cool slightly.
In a large bowl, add the Greek yogurt and vanilla and mix well. Whisk the cooled milk and sugar mixture into the yogurt mixture until well mixed. Place the mixture in the fridge for about a half hour to cool completely.
In the meantime, puree the raspberries and sugar in a food processor. Using a sieve, strain the mixture to remove the seeds. Set aside.
Freeze in your ice cream machine according to the manufacturer's directions. When finished, the ice cream will be soft. Begin to swirl your frozen yogurt in large bowl by very gently stirring in the fruit puree or in a container alternate with frozen yogurt and fruit puree. Place the frozen yogurt in the freezer for at least an hour before serving.
Makes about 3 cups.
Information
Category

Desserts, Frozen