 Browsing TeamSugar the other day, I was absolutely taken by a Fall recipe. This apple butter was created by Kitchen Goddess founder, Twinkle, when she wasn't able to locate any apple butter in her adopted homeland, Finland. Since she is a domestic divinity, she took matters into her own hands and came up with an original recipe. I can't get enough of apples, and making apple butter (which doesn't actually include any butter) is the perfect way to use up a surplus of the fruit. Plus, it's a healthy spread alternative to jams and jellies. To get her delicious recipe,
.

Submitted by TeamSugar member Twinkle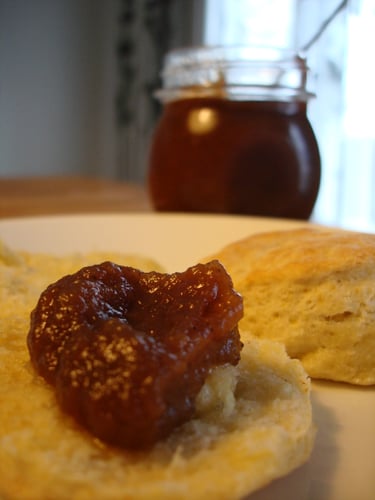 Ingredients
5 1/2 pounds apples - peeled, cored and sorta chopped
1 cup sugar
1 cup brown sugar
2 teaspoons ground cinnamon
1/4 teaspoon ground cloves
1/4 teaspoon salt
Directions
Peel, core and chop your apples. Don't worry too much about the chopping part because they will cook down and you can blitz them later with a hand mixer. Toss all the ingredients into a heavy pot or slow cooker. Cover and cook on medium high heat for the first hour. Then turn the heat down to low for 8 to 10 hours. Take the cover off, blitz until smooth and turn the heat back up to medium high for another hour or until most of the liquid is gone. Spoon into jars or freezable containers and pop in the fridge or freezer. Enjoy!
* Makes enough to fill 3 to 4 medium size jars.
Ingredients (minus salt)
Toss it in a pot.
Mix it.
Let it simma down nah.
Blitz it.
Eat it.
Information
Category

Condiments/Sauces, Jellies/Jams

Cuisine

North American