Reader Recipe: Beloved Bean Salad One of my favorite things to do in Spring is go on picnics. I pack up a small sack — making sure to add a bottle opener! — text some friends, grab YumJimmy and head to the park. One of the best parts is all the random snacks everyone brings. I'm always looking for a new addition to our usual repertoire, and when I saw this bean salad from TeamSugar member audreystar, I knew I had found a winner. Her recipe is handed down from her aunt, and it looks easy to throw together and great for any sort of get together. To get the recipe for her auntie's beloved bean salad, just
.
Submitted by TeamSugar member audreystar
Auntie's Beloved Bean Salad
My aunt's recipe. :)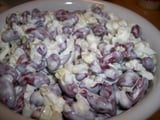 Ingredients
2 - 15 oz cans of kidney beans or red beans
1 hard boiled egg
1/2 onion chopped
1 stalk of celery chopped
2 tablespoons dill pickle relish (you can use sweet-pickle relish instead if you like it better)
1/2 cup mayonnaise (you can add less or more depending on how thick you want it)
1 teaspoon garlic powder
1 teaspoon celery salt
Directions
Ingredients (at a glance)
Mix together in a bowl, your chopped onion, chopped celery, pickle relish, garlic powder, and celery salt:

Hard boil an egg and after it is finished chop it up and put in the bowl with onion/relish mixture. Next open the cans of beans and thoroughly rinse and dry. (This is very important! If you don't do this you will end up with a soupy bean mess — trust me I know :oops: )
Drained beans
Add chopped egg and beans to the bowl mixture.

Last thing is add the mayonnaise. Mix all together. Cover and put in the fridge for a few hours or overnight. Great for a Summer bbq. Enjoy!

Information
Category

Other, Salads

Cuisine

North American