Reader Recipe: Chicken Salad in Celery Ribs Whenever I find myself in need of creative inspiration, I simply look to the Kitchen Goddess group. This week, I came across a killer app — mini celery boats stuffed with chicken salad and peas. I'm thinking these would make a great appetizer to bring to my next book club, since they're bite sized and not too messy. Apparently, I'm spot on: Jenious says they're such a big hit at gatherings that she always doubles the recipe. To make these for your next get-together,
.
Submitted by TeamSugar member Jenious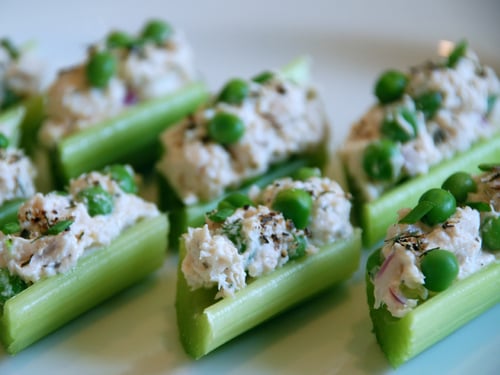 Chicken Salad with Peas in Celery Ribs
Adapted from a recipe by Mary Barber and Sara Corpening for Food & Wine.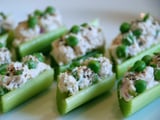 Ingredients
8 wide celery ribs, trimmed
1/3 cup cream cheese (2 ounces), softened
3 tablespoons mayonnaise
1 tablespoon plus 1 teaspoon fresh lemon juice
1 tablespoon finely chopped basil
2 teaspoons finely chopped tarragon
2 teaspoons finely chopped flat-leaf parsley
1/2 teaspoon finely grated lemon zest
1/2 pound cooked chicken breast, finely chopped or shredded
1/2 cup frozen baby peas, thawed
3 tablespoons finely chopped red onion
Kosher salt and freshly ground pepper
Directions
Using a vegetable peeler, peel the celery ribs so they sit flat, then cut them on the diagonal into 1-inch lengths. In a medium bowl, combine the softened cream cheese with the mayonnaise, lemon juice, basil, tarragon, parsley and lemon zest. Add the chicken, peas, and onion and stir gently until just combined. Season with salt and pepper. Spoon 1 teaspoon of the chicken salad onto each piece of celery.
Information
Category

Appetizers, Finger Foods