 I was captivated when I first saw this TeamSugar photo — the potato and meat in the soup look chunky and hearty, and I can just taste the dill on the tip of my tongue. I was too enthralled to even notice that this recipe, with its step-by-step photos, was actually Syako's first attempt at food photography! If you, too, are tempted by the dinner possibility, then
.
Submitted by TeamSugar member Syako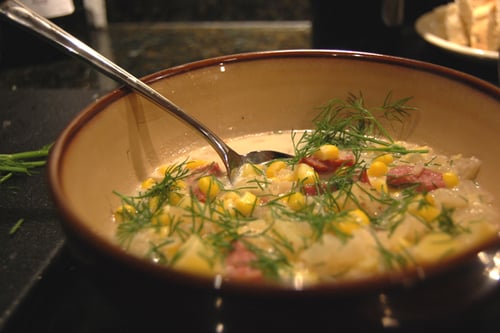 Corn & Kielbasa Chowder - perfect for fall
Ingredients
8 ounces kielbasa, halved lengthwise and thinly sliced
2 onions, finely chopped
1 tablespoon butter
One 14.5-ounce can chicken broth
1 large baking potato (about 12 ounces), peeled and cut into 1/2-inch cubes
1 cup half-and-half
One 1-pound bag frozen corn, thawed
Salt and pepper
Chopped fresh dill, for garnish
Directions
1. Heat a deep skillet or a wide 4- to 6-quart pot over medium-high heat. Add the kielbasa and cook, stirring, until lightly browned, about 6 minutes. Transfer to a plate.


2. Add the onions and butter to the pan and cook over medium heat, stirring occasionally, until golden, about 6 minutes.


Add the broth and potato and bring to a boil.


Reduce the heat, cover with a lid and simmer until the potato is tender, about 10 minutes.


Add the half-and-half and corn and cook, stirring, until heated through.
3. Using a blender or food processor, puree 1 cup chowder until smooth. Stir the puree back into the chowder along with the browned kielbasa and season to taste with salt and pepper. Top with the dill.

The final product:

Information
Category

Soups/Stews, Chowder