Cupcakes are one of my favorite things, so I thought I'd died and gone to heaven when I saw Renees3's recipe. She starts with chocolate cupcakes, stuffs them with a white chocolate filling, ices them with a cream cheese frosting, and tops them off with a drizzling of seedless raspberry sauce. When Renees3 couldn't find an adequate cupcake recipe, she decided to adapt a bunch of different recipes to make her own customized cupcakes. To me, that's one of the true virtues of cooking: You can tailor any recipe to suit your needs, which can result in something even better! To see how her cupcakes came together,
.
Submitted by TeamSugar member Renees3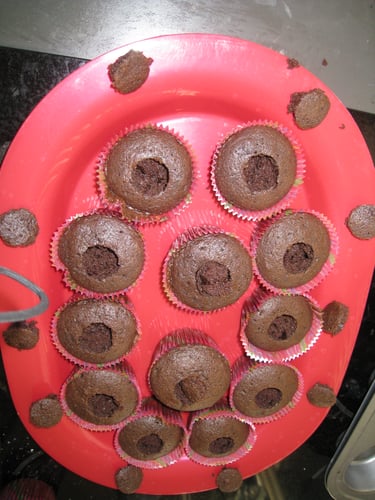 Renee's Stuffed Cupcakes
part AllRecipes.com, Part Emeril, Part Curtis from Take Home Chef, part Me!
Ingredients
Cupcakes –
1 1/3 cups all purpose flour
¼ teaspoon baking soda
2 teaspoons baking powder
¾ cup unsweetened cocoa powder
1/8 teaspoon salt
3 tablespoons butter, softened
1 ½ cups sugar
2 eggs
¾ teaspoon vanilla extract
1 cup milk
White Choc. Filling
White Chocolate Filling:
4 ounces white chocolate, chopped
1/4 cup milk
4 ounces cream cheese
1/4 teaspoon pure vanilla extract
Cream Cheese Frosting –
2 (8 oz) packages of cream cheese, softened
½ cup butter, softened
2 cups sifted powdered sugar
1 teaspooon vanilla extract
Raspberry Sauce –
1 (6oz) basket fresh raspberries
3 tablespoons powdered sugar (or more or less to taste)
Directions
White Choc. Filling -
In the top of a double boiler, combine the white chocolate and milk. Bring to a simmer and cook, stirring, until the chocolate is melted. Let cool to room temperature.
In a bowl, beat the cream cheese, and vanilla. Gradually add the cooled chocolate and beat until smooth. Chill in the refrigerator for 2 hours before filling cupcakes. Do next three steps while waiting for this to chill. This will be used to fill the chocolate cupcakes.
Cupcakes –
Preheat oven to 350 degrees F (175 degrees C). Line a muffin pan with liners. Sift together the flour, baking powder, baking soda, cocoa and salt. Set aside.
In a large bowl, cream together the butter and sugar until light and fluffy. Add the eggs one at a time, then stir in the vanilla. Add the dry mixture alternately with the milk; beat well. Fill the muffin cups 3/4 full.
Bake for 15 to 17 minutes in the preheated oven, or until a toothpick inserted into the cake comes out clean. While cooling make frosting.
Cream Cheese Frosting –
In bowl, combine cream cheese and butter until creamy, mix in vanilla then gradually stir in the sifted powdered sugar.

When cupcakes are cooled, cut little plugs out of center.

Once filling has been refrigerated 2 hours, pour into hole then top with plug.

Frost to cover the top.
Raspberry Sauce -
Combine the raspberries and 3 tablespoons/30 g of powdered sugar in a blender and puree until smooth. Push the raspberry puree through a fine sieve and into a small bowl.
Discard the seeds.
Drizzle over tops of cupcakes.

Information
Category

Desserts, Cupcakes