Audreystar says she's been on a Greek cooking kick lately, and she's not alone. I've also been somewhat fixated on feta cheese recently, and this Mediterranean mix of chicken, artichoke hearts, tomatoes, onions, parsley, and feta looks incredibly yummy. I love that she found the recipe while looking for a way to use up her surplus of fresh parsley! Leftover herbs are always inspiring my dinners, too. This dish looks like a fast and easy weeknight meal, so to get her recipe plus step-by-step photos,
.
Submitted by TeamSugar Member audreystar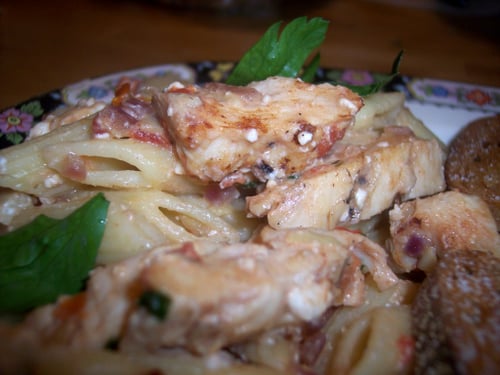 Ingredients
1 (16-ounce) package penne pasta (You might want to use less than 16 oz., say between 8 & 16)
1 1/2 tablespoons butter (or olive oil)
1/2 cup chopped red onion
2 cloves garlic, minced
1 pound skinless, boneless chicken breast halves - cut into bite-size pieces (I cheated and got the pregrilled, bagged chicken to save time)
1 (14-ounce) can artichoke hearts in water (or the canned marinated artichoke for more flavor)
1 tomato, chopped (with the tomato scare and my laziness I got the canned tomatoes instead)
1/2 cup crumbled feta cheese
3 tablespoons chopped fresh parsley
2 tablespoons lemon juice
1 teaspoon dried oregano
salt to taste
ground black pepper to taste
Directions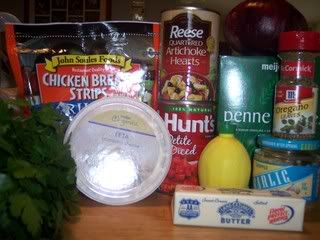 In a large pot with boiling salted water cook penne pasta until al dente. Drain.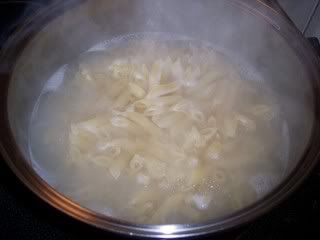 Meanwhile, in a large skillet over medium-high heat melt butter, add onion and garlic, and cook for 2 minutes. Add chopped chicken and continue cooking, stirring occasionally until golden brown, about 5 to 6 minutes.


Reduce heat to medium-low. Drain and chop artichoke hearts and add them, chopped tomato, feta cheese, fresh parsley, lemon juice, dried oregano, and drained penne pasta to the large skillet. Cook until heated through, about 2 to 3 minutes.

Not my hands, my hubby's, didn't want you to think I had "Man Hands"
Season with salt and ground black pepper. Serve warm.
I served mine on a plate with a side Mediterranean Mix salad and two pieces of toasted Rye Garlic Bread.

Up close and personal!

You guys, this was SOOOOOOO good. I have been on a Greek cooking kick lately, have you noticed?
Next time I will be using a little less pasta. On the link of the recipe above some people reviewed it and said they would use the marinated artichoke hearts instead of the plain because it would add more flavor but I thought this had lots of flavor.
I will DEFINITELY make this again. I couldn't get enough of it.
Information
Category

Main Dishes

Cuisine

Greek