 The other day I was browsing the recipes on TeamSugar and this one by VirginSin caught my eye: Was it a breakfast item, a snack, or a dessert? I think the answer is all of the above! These bite-sized treats — a combination of cornflakes, honey, and peanuts — are served in paper cups making them a tasty, portion-controlled indulgence. The recipe calls for a few ingredients, all of which most likely already exist in your kitchen.
To make your own version,
.

Submitted by TeamSugar member VirginSin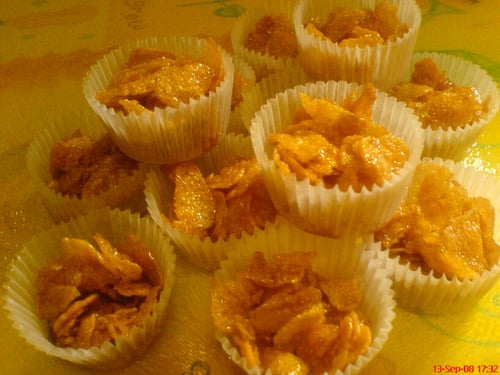 Ingredients
1 box of cornflakes (250g)
125g butter or margarine
1 cups of honey
1/2 cups of peanut halves, preferably unsalted
Directions
1. In a small saucepan, mix honey and butter.
2. Stir over low heat until butter melts.
3. Pour into a bowl (I recommend ceramic) and cool completely.
4. Then pour over Cornflakes mixture, mix to coat thoroughly...
5. Position paper cases in patty or muffin pans.
6. Spoon Cornflakes mixture into paper cases.
7. Bake in a preheated moderate oven (150C) for 5 to 10 minutes.
Then remove from oven. Let it stand for 20 minutes.
Information
Category

Other, Appetizers