Reader Recipe: Hummingbird Cake Since a few of my friends have birthdays in February, I've been browsing all over the web in search of a birthday cake that fits my mood. I found it, of course, right underneath my nose in the Kitchen Goddess group. TeamSugar regular celebrity_soup took a hiatus from posting recipes, but has been back and on a cake-making frenzy, as demonstrated by her delectable desserts. Case in point: This opulent hummingbird cake, which I've definitely added to my birthday cake list. To see the recipe,
.
Submitted by TeamSugar member celebrity_soup.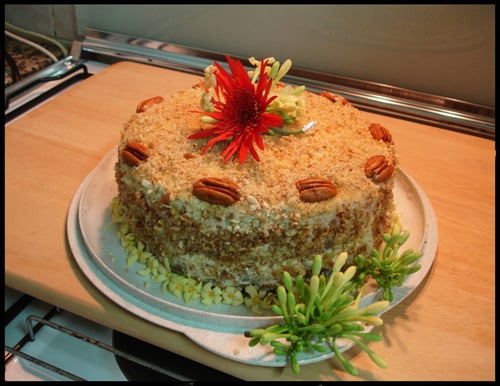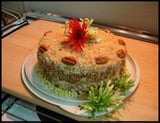 Ingredients
For the cake:
Nonstick vegetable spray
All-purpose flour, for pans
3 cups self-rising flour
2 cups granulated sugar
3/4 cup vegetable oil
1/2 cup finely chopped pecans
2 very ripe large bananas, mashed
1 (8-ounce) crushed pineapple, with juice
1 teaspoon pure vanilla extract
1 teaspoon ground cinnamon
4 large eggs, beaten
For the frosting:
1 pound (1 box) confectioners' sugar
1 (8-ounces) cream cheese, room temperature
6 tablespoons (3/4 stick) unsalted butter, softened
1 teaspoon pure vanilla extract
1 tablespoon milk, or more if needed
1/2 cup finely chopped pecans
Directions
Preheat oven to 325°F. Spray and flour three 8-by-2-inch round cake pans, tapping out excess flour; set aside.
Prepare the cake; in a large bowl, stir to combine self-rising flour, sugar, oil, pecans, bananas, pineapple, vanilla, cinnamon, and eggs.
Divide batter evenly between prepared pans, smoothing with an offset spatula. Bake, rotating pans halfway through, until the tops spring back when gently pressed with your fingertips, 26 to 28 minutes.
Transfer pans to a wire rack to cool 10 minutes. Invert cakes onto wire rack. Reinvert cakes and let them cool completely, top sides up.
Prepare the frosting; in the bowl of an electric mixer fitted with the paddle attachment, combine sugar, cream cheese, butter, vanilla, and 1 tablespoon milk on medium speed until frosting is smooth. If needed, add more milk, 1 teaspoon at a time, to achieve the proper spreading consistency.
Using a serrated knife, trim tops of cakes to make level. Place four strips of parchment paper around perimeter of a serving plate or lazy Susan. Place the first layer on the cake plate. Spread the top of the first layer with 1/4 of the frosting. Place the second layer on top and repeat process with another 1/4 of the frosting. Place the remaining layer on top of the second layer bottom side up. Spread entire cake with remaining frosting. Sprinkle the top with pecans. Remove parchment paper strips; refrigerate until ready to serve.
Information
Category

Desserts, Cake