Reader Recipe: Indian Cauliflower Stew In a continued effort to detox after a serious day of gluttony this past weekend, I'm trying to lighten up on the meat and grease and focus on the vegetables. This recipe from dlmslp is just what I need — something that's more vegetables than anything else, but still full flavored. If you're looking for a hearty, impressive meal, serve it as she did — alongside girlc's fragrant chicken curry. To get the recipe and view detailed photos,
.
Submitted by TeamSugar member dlmslp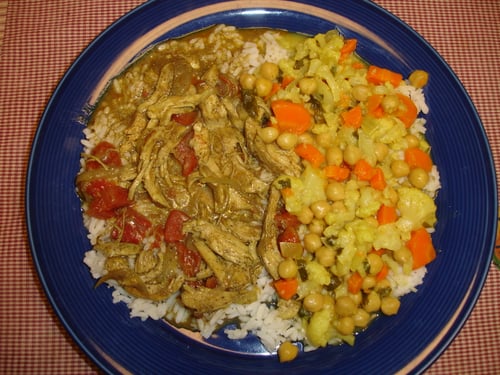 Girlc's Fragrant Chicken Curry and Indian Cauliflower Stew
Good Housekeeping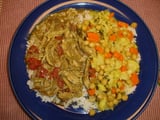 Ingredients
1 Tbsp. olive oil
3 med. carrots, chopped
1 med. onion, chopped
1 Tbsp. finely chopped fresh ginger
1 Tbsp. curry powder
Salt
2 1/2 C vegetable broth
1 med. head cauliflower, cut into small florets
2 (15 oz.) cans chickpeas, rinsed and drained
1/2 C chopped cilantro leaves
1/4 C plain lowfat yogurt
Directions
In a dutch oven, heat oil and add carrots and onion. Cook 10-12 mins or until tender. Stir in ginger, curry, and 3/4 tsp. salt into mixture, cook 3 minutes, stirring constantly. Add broth, cover and heat to boiling. Stir in cauliflower and chickpeas. Cover and cook on medium 15-20 minutes longer, gently stirring until cauliflower is tender. Stir in chopped cilantro and yogurt. Serve over rice.
Information
Category

Main Dishes