Reader Recipe: Light 'n' Tasty Soup
Reader Recipe: Light 'n' Tasty Soup When I think of soup, I usually think of heavy, time-consuming recipes. You know, the sort of thing that sits on your stove all day building layers of flavor upon itself.
So when I saw TeamSugar member celebrity_soup's recipe in the Kitchen Goddess group, I was immediately intrigued. The soup is Nigella Lawson's "Light 'n' Tasty" soup, and it comes together in a few minutes. It's perfect for a quick lunch or a fast dinner. The best part is that it's also rather adaptable. Don't like bok choy? Replace it with broccoli. Don't have sprouts on hand? Just omit! To see the simple yet versatile recipe,
.
Submitted by TeamSugar member celebrity_soup
Dinner For Two: Nigella's Noodle Soup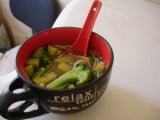 Ingredients
6 ounces udon noodles (dried, from a packet)
3 cups chicken broth
1 teaspoon brown sugar
1 star anise
1 teaspoon minced ginger
2 tablespoons soy sauce
3/4 cup bean sprouts
1 cup chopped patty pans/zucchini
3/4 cup sliced shiitake mushrooms (I used button mushrooms)
2 heads baby bok choy, finely sliced (I used broccoli instead)
2 tablespoons freshly chopped cilantro leaves (optional)
Directions
Cook the noodles according to packet instructions and while the water is boiling fill a nearby saucepan with stock, brown sugar, star anise, ginger and soy sauce. (When the noodles are done, just drain them and put half in each bowl.)
When the flavored stock comes to a boil, add the vegetables. They should be cooked before 2 minutes are up.
Pour half into each bowl, over the cooked and drained noodles and sprinkle with cilantro.


Serves 2
...and here's the video of the goddess cooking up this fab dish:
Information
Category

Soups/Stews, Pasta/Noodle