Reader Recipe: Monkey Bread
I swooned when I came across Phasekitty's pictures of her mother's monkey bread. Eating this treat reminds me of hanging out with friends and family. There's nothing better than catching up on good conversation while picking apart pieces of the gooey bread. The best part? Licking the cinnamon sugar off your fingers. Besides being a great breakfast, dessert, snack, and gift, monkey bread is great to make with kids. To get Phasekitty's family recipe,
.
Submitted by TeamSugar member Phasekitty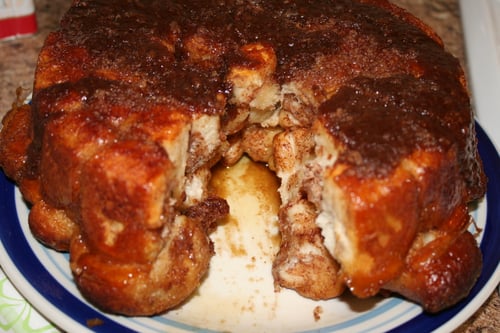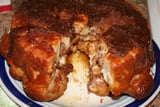 Ingredients
4 cans refrigerated biscuits
1 cup brown sugar
1 1/2 sticks butter (3/4 cup) (extra stick of butter optional)
1/2 cup sugar
2 tablespoons cinnamon
You can also add nuts or raisins or anything really, but I like mine pure and simple.
Directions
Cast 'o characters
Grease a bundt pan well. Combine the white sugar and cinnamon in a ziploc bag. Open and separate your refrigerated biscuits and cut them into halves, then roll them into balls of dough. Put the dough balls in the bag of cinnamon and sugar and shake well to coat. Arrange them in layers around the bundt pan. If you're using any raisins or nuts, you can sprinkle them in between layers. If you have leftover cinnamon/sugar mix, set it aside. When you're done, they should look something similar to this:
I don't have a bundt pan, but I still suggest using one as more goo will be contained and won't spill out like a lot of mine did. No one likes wasted goo!
Put the brown sugar and butter in a small saucepan over medium to high heat. Stir until it's all incorporated, then let it boil for about a minute or so. Pour this ooey gooey liquid into your bundt pan all over them dough balls:
Right about now I'm wishing I had a bundt pan.
Toss it into the oven and bake it for about 35 minutes at 350 degrees.
Mmm, we're getting there....
Let cool for about 10 minutes, then flip it over onto a large plate. Let it sit flipped over for a few minutes to let all the ooey gooey goodness drip down. Now this part is optional, but if you like extra goo (and who doesn't like extra goo?) take that leftover cinnamon and sugar mix and put it into a saucepan with a stick of butter. Let it incorporate and boil for a minute or so and then pour it onto the final product.
Before the extra goo...
After extra goo...
I only used 1/2 a stick of butter for my extra goo and it didn't turn out as well - it carmelized a little bit on top - so don't be a doofus like me, toss that whole stick in there!
Oh man...
Pull apart with your fingers and chow down! This is really fun for kids. Careful, it's sticky!!
NOM!
Information
Category

Breads, Breakfast/Brunch