Reader Recipe: Pecan Cookies With the new year in mind, I've made a string of resolutions, and one of them is to be more prepared for last-minute parties. That's why I'll be making this cookie dough, courtesy of Jenious. Each cookie is filled with the subtle flavor of toasted pecans, and since the cookies freeze well, they'll be ideal for constant entertaining. I'll be making extra dough for Super Bowl Sunday and Valentine's Day. To see her quick recipe and lush photos,
.
Submitted by TeamSugar member Jenious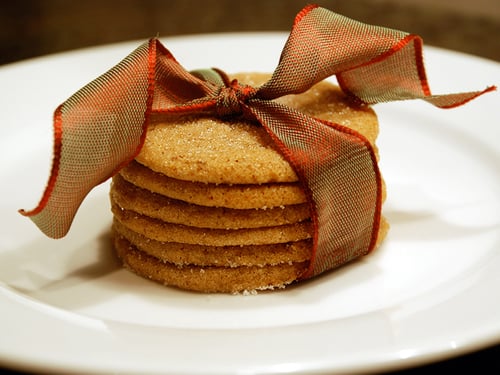 Pecan Cookies
Unknown; Old clipping from a cooking magazine (possibly Gormet or Food and Wine)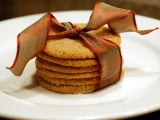 Ingredients
1 1/2 cups toasted pecan pieces*
1/2 cup butter, cut into pieces
1/2 cup granulated sugar
1/2 cup firmly packed brown sugar
1/2 teaspoon baking soda
1/2 teaspoon baking powder
1 egg
1 teaspoon vanilla
1 1/2 cups flour
Directions
1. Place nuts in food processor container; cover. Process by pulsing with on/off action until paste forms (will appear grainy).
2. Add butter, sugars, baking soda, and baking powder; process until just combined. Add egg and vanilla; process until just combined. Add flour. Process by pulsing until just combined. Transfer to large bowl. Cover; refrigerate for a minimum of 1 hour or until firm
3. Heat oven to 375 degrees.
4. Shape dough into 1 inch balls (or cookie scooper of your choice; Makes lovely mini cookies, too). Roll in additional granulated sugar. Place about 2 inches apart, on ungreased cookie sheets. Flatten slightly with bottom of glass. I dip the glass in sugar in between each cookie to prevent sticking and for extra sugar sparkle.
5. Bake 7 to 9 minutes or until lightly browned. Cool for 2 minutes; remove from cookie sheets. Cool on wire racks. Makes approximately 48 cookies.
Information
Category

Desserts, Cookies