Reader Recipe: Potato Soup Soup is one of my favorite meals to enjoy year-round, so when I caught this shot of homemade bacon and potato soup, I started salivating. All Mansionmogul did was free-form this recipe, and I dreamt of a steaming hot bowl of this velvety, chunky soup sitting in front of me, the grated cheese topping already in a blissful state of melted gooeyness.
Make this soup — perfect for a cold Winter night — when you
.
Submitted by TeamSugar member Mansionmogul
Potato Soup
Original Recipe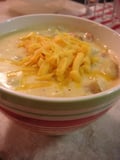 Ingredients
6 slices bacon, baked or fried and crumbled
2 medium onions, chopped
2 carrots, chopped (if desired)
2 stalks celery, chopped (if desired)
1 cup corn (if desired)
3 pound (about 5 large) potatoes
3 1/2 teaspoon salt
1 cup sour cream + 2 cup whole milk
(I didn't have sour cream on-had so ended up using 2 cups heavy cream and some extra milk to thin it out)
1/4 pound (1 stick) butter
1 tbsp black pepper
1 tbsp smoked paprika
4 scallions, thinly sliced (if you have them)
3/4 cups shredded sharp Cheddar cheese (for garnish)
Directions
I started with a basic recipe for potato soup and then improvised and changed it to what I wanted - you can change it up however you want.
Start by browning your onions, in the bottom of a large pot. Then add the celery and carrots and heat through. I peeled and cut half of the potatoes into thirds, and chopped up the second half into smaller pieces, leaving the skins on. Place all the potatoes in a large pot with water to cover, add 2 teaspoons salt, and bring to a boil. Reduce heat to a simmer and cook until the smaller potatoes are cooked but not too soft. I then separated the smaller potato chunks out to go into the pot (if you can think of a better way of doing this, let me know!). I cooked the remaining potatoes until they were very soft -- about 45 minutes. Drain the potatoes, discarding all but a tablespoon or two of the water, and return them to the pot. Mash them with a potato masher until smooth. Add the sour cream and butter and stir until melted. Add the mashed potatoes to the large pot with the milk, pepper, bacon, corn, and remaining salt and smoked paprika and bring the soup back to a simmer. Divide among 8 bowls and serve the soup hot, garnished with scallions, cheese, and bacon.
Makes 4 Servings
Information
Category

Soups/Stews, Clear