Reader Recipe: Shrimp Penne in Cream Sauce I thought I was starting to get sick of pasta . . . until I came across these pictures posted by WhiplashGirlchild.
The chewy comfort of the penne, the creamy sauce, and the Mediterranean-inspired flavors with the shrimp sound just perfect for a family-style meal. Her own recipe for cheesy bread looks entirely delicious, and I think I'll throw in a garden salad for good measure. I'm grateful to have another dinner menu worked out! For this tantalizing recipe,
.
Submitted by TeamSugar member WhiplashGirlchild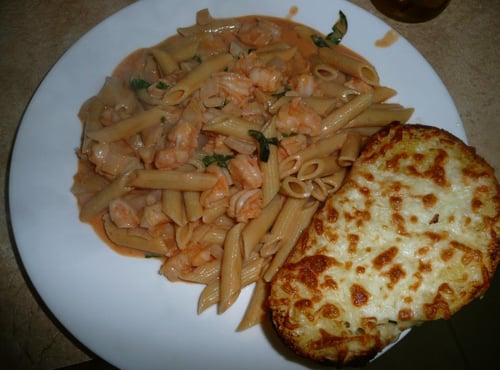 Ingredients
For pasta:
1 lb. shrimp (raw or frozen, but raw would be better)
1 lb. penne or other short pasta, cooked
2 tbsp. olive oil
2 tbsp. butter
1 small onion, finely chopped
2-4 cloves garlic, minced
1 cup white wine
1 8 oz. can tomato sauce
1 cup heavy cream
2-3 tbsp. fresh parsley, chopped
2-3 tbsp fresh basil, chopped
salt and pepper to taste
For garlic bread:
(Sorry, I don't have measurements for this one)
Sliced Italian bread
butter
olive oil
garlic powder
mozzarella cheese, shredded
Directions
First of all, I'd use raw shrimp if I were you. That's what the Pioneer Woman did. But my local supermarket was out of fresh shrimp (WTF) so I used frozen. If you use fresh, check the PW's site for how she cooked it. Since mine was already cooked, I skipped that part.
Heat the butter and olive oil together in a large skillet over medium heat. While you're at it, put some more butter and olive oil in a bowl. We'll get to that later.
Add the onion and garlic to the hot skillet and cook until softened, 5 minutes or so.

After it's softened, add a cup of white wine. We use Yellowtail Chardonnay, which the boy always has in the fridge.

Lower the heat a teensy bit and let a little bit of the wine cook off. While you're doing that, cut your shrimp into little pieces.

Now add the can of tomato sauce to the skillet and stir.

Once that's heated through, add the cream.

Let that cook for a while. While you're doing that, get the garlic bread ready (see below).
Now add the shrimp to the skillet.

Cook until shrimp is heated through and then add the chopped herbs.

Cook a few more minutes and then add the pasta to the skillet. Stir until coated.

Okay. Now. Remember that olive oil and butter you put in a bowl?

Nuke it for 20-30 seconds, until the butter is melted. Add a bunch of garlic powder to the bowl and stir.

Dip both sides of the bread into the oil/butter/garlic powder mixture. Don't leave it in there for more than a few seconds because it'll soak up too much and then you won't have enough.

When both sides of the bread are covered with the mixture, put shredded mozz on top.

Put it under the broiler. Keep a VERY close eye on it, it should only take maybe 2 minutes or so until the cheese is browned.

And the final product:

This was so yummy and easy! But next time I'll use raw instead of frozen shrimp.
Information
Category

Pasta, Main Dishes

Cuisine

Italian