Reader Recipe: Spinach Salad With Candied Walnuts
Whether it's the overdone combination of gorgonzola and greens or the excessively fruity vinaigrette, I don't usually spring for spinach salads. However, when I saw Le Etiana's recipe, I was suddenly interested. Her dressing contains poppyseeds, which add extra texture. The cheese is a grated, mild Swiss, not the crumbled blue cheese I'm so tired of seeing in my salads. The candied walnuts add a subtle hint of roasted sweetness. Thanks to her appetizing recipe (and photo!) I think I'm ready to give spinach salads another chance. To see how she whipped up this healthy creation and check out the pictures of the beautiful table she served the salad on,
.
Submitted by TeamSugar member Le Etiana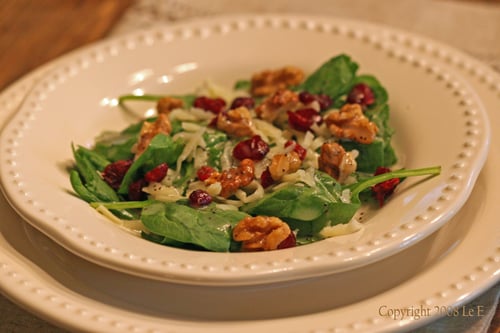 Spinach Salad With Candied Walnuts
Salad recipe — passed on from a dear friend. Poppy-Seed Dressing and Candied Walnuts — The Domestic Art Patricia Schocker Wright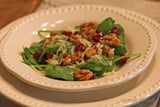 Ingredients
Salad:
* 2 good size bundles of fresh spinach
* 1 pound of grated Swiss cheese
* bag of dried cranberries
* candied walnuts
* poppy-seed dressing
Poppy-Seed Dressing:
* 1 1/4 tablespoons poppy seeds
* 3/4 cup of vinegar
* 1/2 cup sugar
* 1 1/2 teaspoons of salt
* 3/4 teaspoon dry mustard
* 1 1/4 cups vegetable oil
Candied Walnuts:
* 6 tablespoons of light corn syrup
* 3 tablespoons of sugar
* 1 teaspoon of salt
* 2 1/2 cups of walnuts
Directions
Spinach Salad:
I make each person's salad individually rather than mix it all together. It's one of those salads that you want to have a certain amount of each ingredient for it to be yummy. I serve the dressing on the side in a small jug. Put spinach on the plate, sprinkle grated cheese, then the dried cranberries, and finally the candied walnuts.
Poppy-Seed Dressing:
Mix everything together in the blender and serve. Dressing lasts up to 3 weeks in the fridge but I never have any left over!
Candied Walnuts:
Preheat over to 325 degrees. In a medium bowl, combine corn syrup, sugar, and salt. Add nuts and toss well to coat. Place in a single layer on a baking sheet that has been coated with cooking spray. Bake for 12-15 minutes or until golden brown, stirring every 5 minutes - just make sure they don't burn. Immediately scoop nuts onto a sheet of foil. Spread nuts apart to cool thoroughly.
Information
Category

Greens , Salads

Cuisine

North American