Reader Recipe: Super-Easy BBQ Pork Every couple of months, I get a huge craving for shredded pork. The kind of slow-cooked, moist, melt in your mouth, scrumptious pork that is stuffed into carnitas and pulled-pork sandwiches. The other day I experienced one of these exact cravings when I saw a recipe for TeamSugar member Twinkle's super easy BBQ pork.
The pork looks incredibly juicy and the recipe is practically effortless. All you need is time, but good things come to those who wait. To take a look at her recipe,
.
Submitted by TeamSugar member Twinkle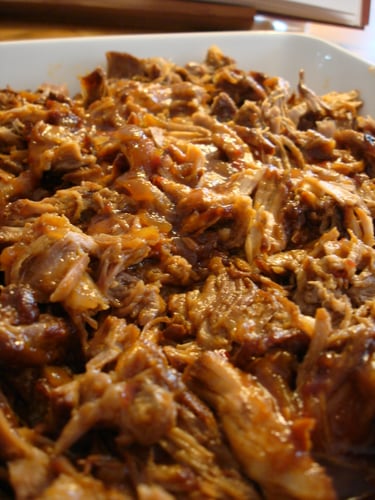 Super Easy BBQ Pork
Williams Sonoma — Food Made Fast: Slow Cooker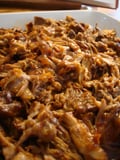 Ingredients
3 tbsp. Canola oil
4 lbs. boneless pork shoulder cut into 3 equal pieces
1 yellow onion chopped finely
3/4 cup cider vinegar
3/4 cup ketchup
1/3 cup brown sugar
1/4 cup light molasses
2 tsp. red pepper flakes
1 tbsp. Worcestershire sauce
1 tsp. dry mustard
salt and freshly ground pepper
Directions
Brown pork in heavy bottom pan and transfer to slow cooker. Sauté onion until golden. Add vinegar and deglaze the pan. Then add ketchup, brown sugar, molasses, red pepper flakes, Worcestershire sauce, mustard, and 1 teaspoon each of salt and pepper. Cook, stirring occasionally until the mixture begins to bubble. Pour over pork. Cover and cook on high for 4-5 hours or low for 8-10 hours. The pork should be very tender.
Transfer the pork to a platter. Using a pair of forks, shred each piece of pork, removing and discarding any large pieces of fat. Skim off the excess fat from the surface of the sauce and return pork to the sauce. Stir together to combine. Serve the pork and sauce as is or on sandwich rolls.
* If like me you don't have a slow cooker, you can use a French oven on the stove top instead.
Tastes even better the next day!
Information
Category

Main Dishes, Pork

Cuisine

North American