Recap of Top Chef All-Stars Season 8 Episode 11
Top Chef All-Stars Goes South
Last night's Top Chef All-Stars took things down South, and the butter and the drama were a-flying! The queen of butter herself, Paula Deen, guest judged and presented the cheftestants with the quickfire challenge: deep fry something, y'all! And Paula being Paula, she meant business: "I've deep fried mac and cheese, lasagna, chunks of butter," she told them. "No calamari sprinkled on top of a salad!"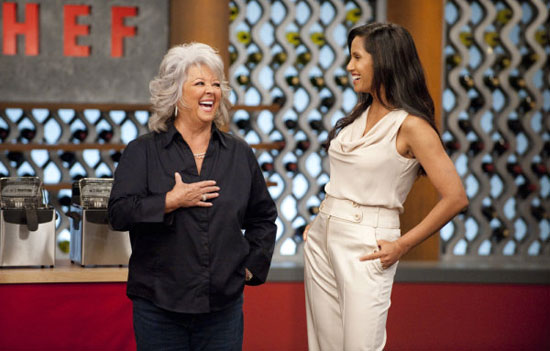 Some of the chefs totally got the concept of Southern cooking, and some clearly didn't (how many times did Dale tell us he cooks Chinese food, not Southern?). Antonia made me nervous with her decision to do a fried shrimp salad (didn't you listen to Paula, Antonia?), but the end result was a decidedly un-salad-like combination of crispy fried shrimp and deep-fried avocado. Unfortunately, she totally spaced and only plated one dish, which prompted my favorite line of the night from Paula: "I could come over there, put you over my knee, and whip your cute little ass!"
Meanwhile, Mike and Richard were working on some chef drama of their own. Mike's fun and creative idea to fry up chicken oysters and serve them in oyster shells was apparently "inspired" by an idea in Richard's notebook. Richard was peeved, Mike was unapologetic, and it only got worse when Mike won the quickfire challenge for his dish! The house was totally abuzz with Mike's disregard for chef law, and Mike reacted by playing the jerk card for the rest of the episode.
More about this episode and the elimination challenge after the break!
John Besh joined the judges for the elimination challenge; as much as I love Paula Deen, Besh's calm, cool, and collected style was kind of a breath of fresh air in this drama-filled episode! The cheftestants were challenged to prepare a meal for 300 people to be served at a benefit for the Greater New Orleans Foundation. And the menu? Gulf seafood, of course! The catch: each chef had to choose a type of seafood — which came along with a recently eliminated contestant as a sous chef.
Carla chooses Tre because she thinks he'll understand Southern food, but is dismayed (and threatens to take his "NAACP card") when she finds out he's a city boy and usually buys his collards in a can. Dale goes with Angelo, which comes in somewhat handy when Dale loses it while they're serving and Angelo calms him down. Richard chooses Fabio, which Fabio loves because he says Richard reminds him of his ex-wife. It must've worked out for them, because their risky combo of fried fish, citrus polenta, and pulled pork ends up winning Richard the challenge! Poor Dale, on the other hand, wraps up a generally unsuccessful episode by packing up his knives and going home.
Do you agree with the decision to send Dale home? Weigh in with your thoughts and anything I missed in the comments!
Photo courtesy of Bravo