Recipe For Apple Pear Salad With Steak
Fall Into Salads: Apple Pear With Sesame Steak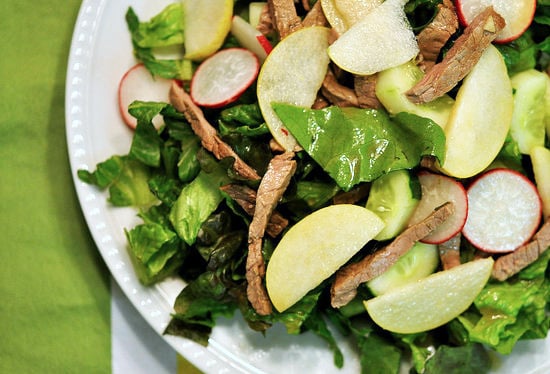 I spent the Summer making salads, and while the weather has begun to change, that doesn't mean it isn't a great time for salads full of Fall flavors. At a recent trip to the market, I was thrilled to see one of my absolute favorite Fall fruits: the apple pear.
Apple pears are not a cross between apples and pears, but they have a shape that's similar to an apple with pear-like skin. Apple pears' texture is wonderfully crisp and they have a mild sweet flavor. While they're great eaten alone, they're even better in this Asian-influenced salad.
The fresh mix of cucumbers, radishes, and apple pears pair perfectly with bulgogi-style beef. The salad can easily be prepped ahead of time, then quickly cook the beef and assemble just before serving. If you are ready to embrace Fall, keep reading for the recipe.
Ingredients
1 lb. boneless beef strip steak or carne asada
2 medium Asian pears (8 oz. each)
2 scallions, white parts minced, green parts sliced on the diagonal
2 large cloves garlic, minced
1 Tbs. minced fresh ginger
1/4 cup mirin
3 Tbs. fresh lemon juice
2-1/2 Tbs. reduced-sodium soy sauce
1-1/2 Tbs. Asian sesame oil
1 T bs. plus 1 tsp. toasted sesame seeds (optional)
Kosher salt and freshly ground black pepper
2 Tbs. rice vinegar
2 tsp. fish sauce
1 small head Boston lettuce, torn into bite-size pieces
1 small romaine heart, torn into bite-size pieces
4 large red radishes, thinly sliced
1/4 medium seedless cucumber, halved and thinly sliced
1 Tbs. vegetable oil
Directions
Trim and freeze the steak until slightly firm, about 1 hour; this makes it easier to slice. Cut the steak crosswise into 4 pieces. Flip each piece onto a cut edge and slice across the grain 1/8 inch thick.
Cut one of the pears in half. Peel and core one half and then grate it on the small holes of a box grater set in a medium bowl or thinly chop using a knife. Add the minced scallions, garlic, ginger, mirin, 2 Tbs. of the lemon juice, 2 Tbs. of the soy sauce, 1/2 Tbs. of the sesame oil, 1 tsp. of the sesame seeds, 1/4 tsp. salt, and a few grinds of pepper. Add the beef and toss well. Cover and refrigerate for 30 minutes to 4 hours.
In a small bowl, whisk the rice vinegar and fish sauce with the remaining 1 Tbs. lemon juice, 1/2 Tbs. soy sauce, 1 Tbs. sesame oil, and 1 Tbs. sesame seeds.
In a medium bowl, toss the lettuces with 3 Tbs. of the dressing and a sprinkle of salt. Divide among 4 dinner plates. Core and thinly slice the remaining 1-1/2 pears. Put the pears, radishes, and cucumber in the bowl and toss with the remaining dressing. Scatter over the lettuce.
Drain the beef and gently pat dry. Heat a 12-inch cast-iron skillet over medium-high heat until hot. Add the oil, swirl to coat the pan, and then scatter half of the beef evenly in the pan. Cook, flipping once, until the beef is nicely browned and barely cooked through, 1 to 2 minutes per side. Transfer to a bowl and repeat with the remaining beef.
Top the salads with the beef and any accumulated juices. Garnish with the remaining scallion greens and serve.
Serves 4.
Information
Category

Greens , Salads

Cuisine

North American
Do you have a Fall recipe you love? Share it in the YumSugar Community and we might even feature your recipe.