Recipe For Beef, Leek, and Tomato Salad
Fast & Easy Dinner: BLT (Beef, Leek, and Tomato) Salad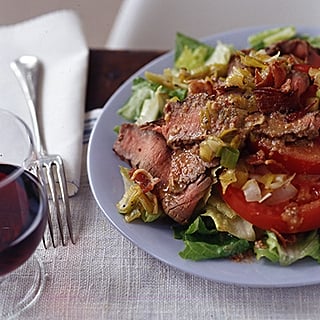 We've seen the classic BLT sandwich kicked up a notch with spicy mayo and transformed into a pizza, but this recipe turns it on its head in a meaty salad tossed with leeks and strip steak.
Dressed in tangy Worcestershire sauce, red wine vinegar, and Dijon mustard, this crunchy, juicy salad is a fresh and filling way to end the day. And it can be made in a snap.
For the super simple recipe, read more.
BLT (Beef, Leek, and Tomato) Salad
Ingredients
1/2 cup extra-virgin olive oil (EVOO), plus more for drizzling
4 small 1- to 1 1/2-inch-thick strip steaks, at room temperature
Salt and pepper
8 slices bacon
4 leeks, white and light green parts only, sliced 1/4 inch thick
1 tablespoon Worcestershire sauce
3 tablespoons red wine vinegar
1 tablespoon Dijon mustard
2 hearts romaine lettuce, coarsely chopped
2 beefsteak tomatoes, thickly sliced
Directions
Preheat a grill or grill pan to medium-high. Drizzle EVOO over the steaks and season with salt and pepper. Grill the steaks, turning twice, 12 to 15 minutes for medium-rare. Let rest for 5 minutes.
In a large skillet, cook the bacon over medium-high heat until crisp. Drain on paper towels and let cool. Pour off all but about 1 tablespoon of bacon drippings from the skillet, then add the leeks, cover and cook over medium heat, stirring often, until wilted, about 5 minutes. Season to taste with salt and pepper; set aside.
Crumble the bacon and transfer half to a food processor. Add the Worcestershire sauce, vinegar, mustard, some pepper and a splash of water. With the machine on, pour in the 1/2 cup EVOO in a steady stream.
Arrange a bed of the romaine and tomatoes on each of 4 plates. Slice the steak against the grain and layer over the tomatoes. Scatter the leeks over the steak and pour the bacon dressing on the salad. Top with the remaining crumbled bacon.
Serves 4.
Information
Category

Meats, Salads

Cuisine

North American