Recipe For Blueberry Cream Cheese Pies
Berry Tempting: Blueberry Cream Cheese Pies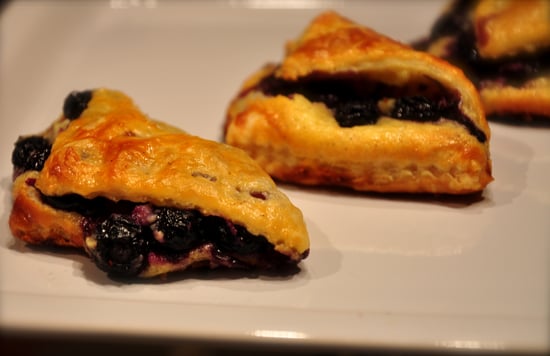 Fresh berries and flaky puff pastry are always a winning combination. To keep up with our berry tempting recipe series, I made mini blueberry-vanilla cream cheese pies that are simple and delicious. I was a little zealous while filling them and clearly overdid it — thus, my pies popped open during baking. Regardless, they were still mighty tasty!
This recipe is a great staple to have on hand when you want to impress guests with pastries. Feel free to substitute another berry or flavor the cream cheese mixture with citrus zest or a different extract. My next round will be raspberries with a lemony cream cheese. Get started on your own pocket pies by reading more.
Blueberry-Vanilla Cream Cheese Pies
Ingredients
2 17.3 ounce packages frozen puff pastry
3 ounces cream cheese, softened
7 tablespoons granulated sugar
seeds scraped from 1/2 vanilla bean
2 large egg yolks
1 cup blueberries
2 teaspoons cornstarch
2 teaspoons creme de cassis or red wine
1/8 teaspoon kosher salt
Confectioner's sugar for finishing
Directions
Thaw 3 sheets of puff pastry overnight in refrigerator.
Position racks in the top and bottom thirds of the oven and heat the oven to 375 F.
In a medium bowl, combine cream cheese, 3 tablespoons of the sugar, the vanilla bean seeds and 1 of the egg yolks. Mix with a wooden spoon until well combined and smooth.
Combine the blueberries, 2 tablespoons of the sugar, the cornstarch, creme de cassis or red wine and salt in another medium bowl and mix gently.
On a lightly floured surface, roll each pastry sheet into a 10 inch square. Using a 4 inch round or square cutter, cut out 4 rounds from each sheet. Arrange them on parchment-lined rimmed baking sheets.
In a small bowl, beat the remaining egg yolk with 1 teaspoon of water. Brush the outer edge of each pastry round with the egg wash. Dollop 1/2 tablespoon of cream cheese mixture in the center of each round. Top with 1 tablespoon of the blueberry mixture.
Fold in half and pinch the edges to seal them. Lightly brush each pie with egg wash and sprinkle with 1/2 teaspoon of the remaining sugar. With the tip of a pairing knife cut a steam vent in the center of each pie.
Bake until golden brown about 25 minutes, swapping and rotating the baking sheets' position about halfway through. Cool slightly on the baking sheets and then transfer to a cooling rack. Before serving sprinkle the pies with confectioners' sugar, if desired.
Makes 12.
Information
Category

Desserts, Pies/Tarts

Cuisine

North American
Baking up a storm with berries this Summer? Share your recipe in our cooking community group Kitchen Goddess, and we might even feature your recipe on YumSugar!