Recipe For Blueberry-Glazed Ribs
Berry Tempting: Blueberry-Glazed Ribs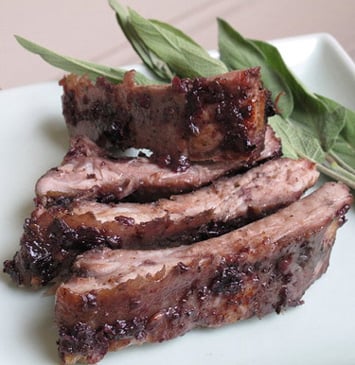 I've said it before, and I'll say it again: blueberry sauce has been the most versatile kitchen basic of the season. I've loved canning the stuff and using it for everything from cocktails to French toast kebabs.
Most recently, it added natural sweetness to baby back ribs. Don't fear the combination of ingredients like hot sauce, blueberries, and garlic powder; they marry together beautifully to coat the the pork in a sticky, fruity, finger-licking glaze.

Ingredients
1-1/2 teaspoons each of garlic powder, onion powder and black pepper
Kosher salt
4 meaty racks of baby back ribs (about 2 1/2 pounds each), membranes removed
4 tablespoons unsalted butter
2 sage sprigs
8 thyme sprigs
1 medium onion, minced
2 large garlic cloves, minced
1/2 cup red wine vinegar
2 cups blueberry sauce
1 teaspoon hot sauce, such as Tabasco
Directions
Preheat the oven to 375° and position shelves in the upper and lower thirds. In a bowl, combine the garlic powder, onion powder, pepper and 1 1/2 tablespoons of salt. Set the ribs on 2 rimmed baking sheets and rub with the spices. Cover with foil and roast for 1 hour and 30 minutes, until tender, switching the pans halfway through. Pour off the liquid in the pans.
Meanwhile, in a large saucepan, melt the butter. Tie the sage and thyme sprigs together with kitchen string. Add the onion, garlic and herb bundle to the saucepan and cook over moderate heat until the onion is softened, 8 minutes. Add the vinegar and bring to a boil. Add the Perfect Blueberry Syrup and hot sauce and simmer over moderately low heat until reduced to 1 1/2 cups, 10 minutes. Discard the herb bundle.
Preheat the broiler. Working with one sheet of ribs at a time, brush the underside of each rack with some glaze and broil until browned, about 1 minute. Flip the ribs and repeat on the other side. Transfer the baking sheet to the bottom shelf of the oven. Repeat with the remaining ribs. Transfer the ribs to a work surface and slice between the bones. Mound the ribs on a platter. Pass the remaining glaze at the table.
Serves 6 to 8.
Information
Category

Main Dishes, BBQ

Cuisine

North American