Recipe For Chicken and Israeli Couscous With Tomato and Lemon
Lemony Chicken With Couscous Is a Hearty, One Pot Meal While I love to go all out when hosting dinner parties, I often opt to throw together a casual, one pot meal when close friends come over. This was the case a few weekends ago, when an old friend from high school and I caught up over a meal of chicken, Israeli couscous, and vegetables; the no-fuss dish seemed to set a relaxed tone for the rest of the evening.
Although the recipe was straightforward and basic, I couldn't have been more impressed by the result. The chicken was so tender, it fell apart at the bone, and I loved the fact that the plump couscous was tinged with fragrant lemon peel and saffron. To make this for your friends,
.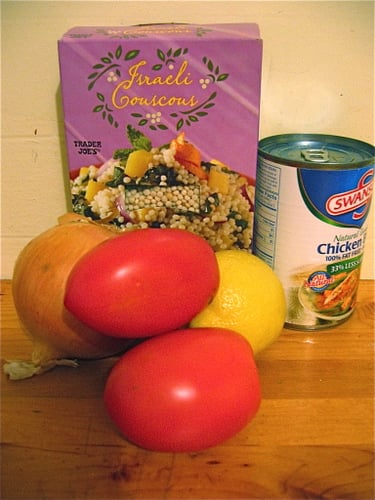 Chicken and Israeli Couscous With Tomato and Lemon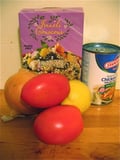 Ingredients
1 tbsp extra-virgin olive oil
1 cup Israeli couscous
1 1/2 pounds chicken thighs (4 to 6 thighs)
1/2 medium onion, thinly sliced
4 Roma or plum tomatoes (about 1 pound), cut lengthwise into 6 slices
3 garlic cloves, minced (1 tablespoon)
4 strips lemon peel (2 inches each)
Pinch of saffron
1/2 cup dry white wine, such as Sauvignon Blanc
1-1/2 cups homemade or store-bought low-sodium chicken stock
1/2 tsp coarse salt
1 cup frozen peas, thawed
1 lemon, cut into wedges, for serving
Directions
Heat oil in a large skillet over medium-high heat. Add couscous, and cook, stirring, for 1 minute. Transfer to a bowl, and return skillet to heat.
Cook chicken, smooth side down, until browned, 3 to 5 minutes. Flip, and cook for 2 minutes more. Transfer to a plate, reserving drippings in skillet.
Reduce heat to medium, add onion, and cook, stirring frequently, for 3 minutes. Stir in tomatoes, garlic, lemon peel, and saffron, and cook, stirring frequently, until tomatoes begin to break down, 2 to 3 minutes.
Return chicken to skillet. Add wine, and cook for 4 minutes. Add stock, salt, and couscous, and stir. Reduce heat to medium-low, cover, and cook, stirring occasionally, until couscous is tender and chicken is cooked through, 12 to 14 minutes. Stir in peas, and cook until heated through, about 1 minute. Serve immediately with lemon.
Serves 4.
Nutritional Information Per Serving: 446 calories, 3g saturated fat, 9g unsaturated fat, 86mg cholesterol, 45g carbohydrate, 342mg sodium, 32g protein, 9g fiber
Information
Category

Poultry, Main Dishes