 Whenever I'm in the mood for bold, robust flavors, my go-to meal is chicken Parmesan. Not only do I get to enjoy the savory richness of marinara sauce with Italian herbs, but I dream of warm, melted cheese and tender, succulent cutlets. My newest obsession is a version of the dish that TeamSugar member My Opinion came up with. While chicken Parmesan's already affordable to make, her version, which incorporates a quick homemade marinara sauce, is even more budget-friendly. By omitting the breadcrumbs, she also makes it healthier! Enjoy this protein-rich meal on a dime when you
.
Submitted by TeamSugar member My Opinion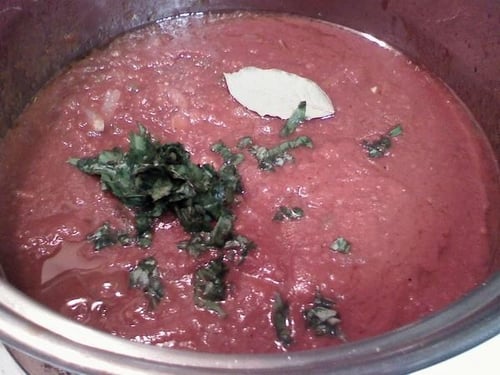 Tomato Sauce recipe For the Chicken Parmesan
Mine with helpful hints from Food Network.
Ingredients
1. 2 32-ounce cans of Italian flavored crushed tomatoes.
2. 1/2 cup of extra virgin olive oil.
3. 1 small to medium onion chopped well.
4. 2 cloves of garlic chopped well.
5. 1 stalk of celery, chopped really well.
6. 1 normal sized carrot (or 3 or 4 of those cute little baby carrots in a bag) either shredded or chopped well.
7. 4 to 6 basil leaves. Roll them up and finely chop them.
8. Sea salt and pepper
9. 2 dry bay leaves.
10. 4 TBSP of UNsalted butter.
Directions
Pic of the ingredients:

I mostly use a good name brand of food but some things, to me and my cooking experience, taste better as the store brand like the Winn Dixie Italian flavored crushed tomatoes are the best, and the bay leaves.
1. Heat the olive oil over med/high heat (mostly medium) and toss in the chopped onions for 1 minute then add the garlic to it for additional 2 minutes until the onions are translucent.


2. Now add the celery, carrots, salt and pepper. Saute them until they are all soft. (about 5 minutes)


3. Add the 2 cans of crushed tomatoes, basil and bay leaves and simmer for an hour.

One of my bay leaves is pushed down into the sauce...
4. After an hour, don't forget to remove the bay leaves! Taste the sauce and use your own judgment as to how many TBSP of the unsalted butter you will use. It depends on the acidity of the sauce so only put in 1 TBSP at a time tasting after each has dissolved. I used 3 and it was perfect!

Information
Category

Other, Condiments/Sauces
Chicken Parmesan
Mine and helpful tips from the Food Network.
Ingredients
1. 8 chicken breast cutlets
2. 3 TBSP of Olive Oil (I used extra virgin)
3. 1 teaspoon of Rosemary
4. 1 teaspoon of Italian Parsley (it's got to be chopped really well or the flavor is too strong on this bite or that bite....you can use regular parsley)
5. 1 teaspoon of Thyme (chopped really well!!)
6. salt and pepper
7. Shredded mozzarella
8. Fresh Parmesan. Kraft makes it easy. You can purchase the huge chunk of Parmesan with the built in shredder at the grocery store for like 5 or $6.
9. 8 pieces of cut up unsalted butter. (like 8 TBSP)
10. 2 cups of Tomato sauce (I'll post up that recipe as well) or just use marinara.
Directions
Here's a pic of the ingredients since I didn't have that option in the 'ingredients section.'

I know we all know what these ingredients are but everyone loves pics....

Preheat the oven to 450'
1.Stir the olive oil and all of the herbs including a dash of salt (remember you will be salting the breasts) and pepper in a bowl together and set aside.


2. Sprinkle a little bit of salt directly onto the chicken breasts, but don't go crazy! Let them set for 15 minutes.
3. Brush both sides of all chicken breasts with the oil and herbs mixture.


4. Heat a large skillet on med/high heat.
5. Add chicken. 2 minutes per side. No longer than that.

Seriously just 2 minutes no matter how tempting it is to fully cook them!

Seriously just 2 minutes no matter how tempting it is to fully cook them!
6. Remove from heat.
7. Spread some sauce in a large baking dish, (about 1/2 cup)
8. Place chicken breast in the dish and put more sauce around and on them.
9. Add 1 piece of unsalted butter on each breast.
10. Add 1 TBSP of mozzarella on each breast.
11. Grate your fresh Parmesan on top of each breast.


Bake for about 3 or 4 minutes. The cutlets are usually kind of thin so use your own judgment there but normally it only takes about 3 to 4 minutes in baking due to the few minutes of searing beforehand.
This will serve 8 people, or 4 really hungry people.
I seriously recommend using my Tomato Sauce recipe. I'll post it as well.

Here are the noodles I use. They're perfect for this dish!!

Information
Category

Poultry, Main Dishes