Recipe For Chinese Pork and Vegetable Hot Pot
Sunday Slow Cooker: Chinese Pork and Vegetable Hot Pot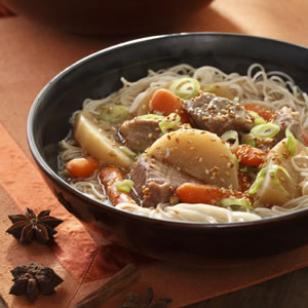 Don't have the patience for all that froufrou Valentine's Day stuff? Then keep the tail-end of your weekend low-key with a slow cooker supper that pays an ever-so-subtle homage to the Lunar New Year.
Start with a generous cut of budget-friendly pork shoulder and some Winter root vegetables, and simmer it for several hours in a stock spiced with cinnamon, anise, ginger, and garlic. Serve the comforting end product over noodles or rice when you read more.


Ingredients
2 cups baby carrots
2 medium white turnips, (8 ounces total), peeled and cut into 3/4-inch-wide wedges
2 1/4 pounds boneless pork shoulder, (picnic or Boston-butt), trimmed and cut into 1 1/2-inch chunks
1 bunch scallions, sliced, white and green parts separated
1 14-ounce can reduced-sodium chicken broth
1/2 cup water
1/4 cup reduced-sodium soy sauce
3 tablespoons medium or dry sherry
4 teaspoons brown sugar
2 tablespoons minced fresh ginger
1 tablespoon rice vinegar
2-4 teaspoons Chinese chile-garlic sauce
4 cloves garlic, minced
1 star anise pod or 1 teaspoon aniseed
1 cinnamon stick
4 teaspoons cornstarch mixed with 2 tablespoons water
2 tablespoons toasted sesame seeds, for garnish
Directions
Place carrots and turnips in the bottom and up the sides of a 4-quart or larger slow cooker. Top with pork and scallion whites. Bring broth, water, soy sauce, sherry, brown sugar, ginger, vinegar, chile-garlic sauce to taste and garlic to a simmer in a medium saucepan over medium-high heat. Pour over the pork and vegetables. Nestle star anise pod (or aniseed) and cinnamon stick into the stew. Cover and cook until the pork and vegetables are tender, 3 to 3 1/2 hours on high or 5 1/2 to 6 hours on low.
Discard the star anise pod and cinnamon stick. Skim or blot any visible fat from the surface of the stew. Add the cornstarch mixture, cover and cook on high, stirring 2 or 3 times, until slightly thickened, 10 to 15 minutes. Serve sprinkled with scallion greens and sesame seeds.
Serves 6.

Nutritional information per serving: 332 calories; 17 g fat (6 g sat, 7 g mono); 91 mg cholesterol; 15 g carbohydrates; 29 g protein; 2 g fiber; 538 mg sodium; 613 mg potassium.
Information
Category

Main Dishes, Pork

Cuisine

Chinese