Recipe For Chipotle Braised Chicken
Sunday Dinner: Chipotle Braised Chicken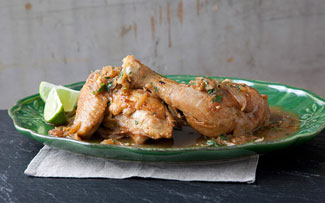 The weather in the Bay Area has been unusually foggy (and that's saying a lot), which has me craving a warm, soothing meal. If you're in a similar autumnal mood, try this tender, chipotle braised chicken tonight. The chicken is browned in garlic- and bay-leaf-infused olive oil, then braised in a spicy chipotle and onion mixture.
Add a squeeze of lime and a handful of cilantro to the cooking liquid to make a fresh, flavorful sauce to top it all off. Serve with roasted potatoes and squash, and add a glass of a woody, bright Pinot or a Tommy's-style margarita to end your weekend on a high note. Hungry yet? Then keep reading for the uncomplicated recipe.
Chipotle Braised Chicken
From Gourmet
Ingredients
1 large onion, halved lengthwise, then thinly sliced lengthwise
2 garlic cloves, minced
1 Turkish or 1/2 California bay leaf
1 tablespoon unsalted butter
1 1/2 tablespoons olive oil, divided
3 lb chicken parts
1 teaspoon chipotle chile powder
1 cup water
1 tablespoon fresh lime juice
1/4 cup chopped cilantro
Directions
Cook onion, garlic, and bay leaf in butter and 1/2 Tbsp oil with 1/8 tsp salt in a 12-inch heavy skillet over medium heat, stirring occasionally, until onion is beginning to brown, about 10 minutes. Transfer to a plate.
Pat chicken dry and season with 1 tsp salt. Brown chicken in remaining Tbsp oil in 2 batches, 5 to 6 minutes per batch, transferring to a plate as browned.
Discard all but 2 Tbsp fat from skillet, then stir in chile powder and onion mixture and cook, stirring, 1 minute. Stir in water and bring to a simmer, scraping up brown bits.
Add chicken and cook, covered, over low heat, turning chicken once, until just cooked through, 25 to 30 minutes. Transfer chicken and onions with a slotted spoon to a platter. Skim off and discard fat from sauce, then boil until slightly thickened. Stir in lime juice and cilantro and spoon sauce over chicken.
Serves 4.
Information
Category

Poultry, Main Dishes

Cuisine

Mexican