Recipe For Chopped Barbecued Pork Sandwich
'Wich of the Week: Barbecued Chopped Pork
Though it's hard to beat Michael Mina's recipe for pulled pork sandwiches, "pulled" isn't the only way to do pork. Another popular variation in North Carolina (or in this case, at Sandra Dee's Barbeque in Sacramento, CA) is chopped pork, wherein slow-cooked meat is cut into bite-size chunks and dressed in a sweet, vinegar-based sauce. Sandra Dee's serves barbecued pork loin on a French roll, with a side of sauce to drizzle or pour to your heart's content. The restaurant also grills the bread, which is a nice touch, though I'd also add some slaw on top. Since these sammies use tenderloin, not pork butt, they are less of a production to make at home than pulled pork. To see how it looks before being sauced, and to get the recipe,
.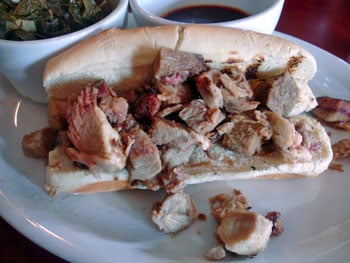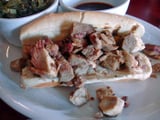 Ingredients
For Quick BBQ Sauce
3/4 cup ketchup
2 tablespoons light-brown sugar
1 tablespoon white-wine vinegar
1 tablespoon Worcestershire sauce
2 teaspoons paprika
1/4 to 1/2 teaspoon cayenne pepper (optional)
For sandwiches
Quick BBQ Sauce
2 pork tenderloins, 12 to 16 ounces each
Coarse salt and ground pepper
3 tablespoons mayonnaise
2 tablespoons white-wine vinegar
1 tablespoon Dijon mustard
2 teaspoons light-brown sugar
5 cups finely shredded green cabbage (half a 2-pound cabbage)
4 potato rolls, or other soft sandwich rolls*
Directions
Make the barbecue sauce by whisking together first 6 ingredients.
Preheat oven to 475°. Divide Quick BBQ Sauce between two bowls. Use one for basting the raw meat; reserve the other for serving with sandwiches.
Place pork on a foil-lined rimmed baking sheet; season with salt and pepper. Brush generously with sauce. Roast, basting occasionally with sauce, until an instant-read thermometer registers 150°, 18 to 25 minutes.
Meanwhile, make slaw: In a medium bowl, whisk together mayonnaise, vinegar, mustard, and brown sugar until smooth; season with salt and pepper. Mix in cabbage.
Thinly slice pork; serve on rolls, accompanied by slaw and reserved sauce.
Makes 4 sandwiches.
*I recommend French rolls.
Information
Category

Main Dishes, Sandwiches

Cuisine

North American