Recipe For Cilantro Pesto Chicken Panini
'Wich of the Week: Cilantro Chicken Panini At the farmers market near the Sugar offices, there's an Afghan food stand that sells all sorts of innovative breads and spreads, including a pesto sauce made from cilantro instead of the standard basil. I love the simplicity of the classic margherita pizza, and used that as inspiration for this panino.
The cilantro pesto combines perfectly with fresh tomato and grilled chicken. Instead of using a mild cheese like mozzarella, I subbed in saltier provolone, because it complements the cool flavor of the cilantro. Though cilantro haters won't go for this sandwich, it would be just as lovely with traditional basil pesto. To get the recipe,
.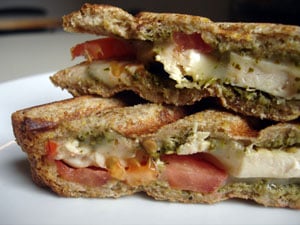 Cilantro Chicken Panini With Tomato and Provolone
Original recipe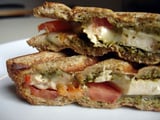 Ingredients
2 boneless, skinless chicken breasts
Salt and pepper
8 slices multigrain or wheat bread
4 tablespoons cilantro pesto
2 Roma tomatoes, cut into 1/4-inch thick round slices
4 slices provolone cheese
Directions
On a clean work surface, place the chicken breasts on a large piece of plastic wrap, and fold the plastic wrap over to cover the chicken. Using a rolling pin or meat hammer, flatten the chicken until it is about 1/2 an inch thick. Season with salt and pepper.

On a grill or in a lightly oiled grill pan on the stove, cook each piece of chicken for about 5 minutes per side over medium heat. Set aside to cool, then cut each piece in half so you have four pieces of chicken.

To make each sandwich, spread 1 tablespoon of cilantro pesto on one slice of bread, then top with chicken, tomatoes, and a slice of cheese. Place second slice of bread atop cheese.

In a panini press on medium heat or in a skillet on the stove, cook panini until bread is lightly browned and cheese is melted — about 5 minutes in the panini press or 3 minutes per side in a skillet.
Makes 4 panini.
Information
Category

Main Dishes, Sandwiches