Recipe For Clams With Udon Noodles
Sunday Dinner: Sizzling Clams With Udon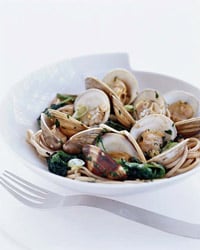 Seafood pasta is one thing that pescetarians will likely never tire of. Toothsome noodles and chewy shellfish are an unbeatable duo. But if linguine con vongole is one of those dishes you can make with your eyes closed, then try a new spin on that winning combination. This pan-Asian pasta adds a completely new angle to a comfort food standby. Rather than sautéeing or steaming the clams, the recipe calls for stir-frying clams in a smoking hot wok with ginger, garlic, and Chinese black bean sauce — then tossing Japanese udon noodles with the sauce until well-coated. The entire dish can be made as speedily as any stir-fry. For the recipe, keep reading.
Ingredients
7 ounces dried udon noodles
1/4 cup plus 1 teaspoon canola oil
2 dozen littleneck clams, scrubbed and rinsed
1 tablespoon minced fresh ginger
1 garlic clove, thinly sliced
1 tablespoon minced flat-leaf parsley
1 1/2 teaspoons Chinese black bean sauce
1/4 cup sake
1 bunch watercress (6 ounces), thick stems discarded
1 1/2 tablespoons oyster sauce
1 tablespoon unsalted butter
1 scallion, thinly sliced
Chili oil, for drizzling
Directions
In a medium saucepan of boiling water, cook the udon until tender, 5 minutes. Drain and toss with 1 teaspoon of the canola oil.
Meanwhile, heat a wok until very hot. Add 2 tablespoons of the canola oil and when it starts smoking, add the clams. Cover and cook for 2 minutes. Add the ginger, garlic, parsley, and black bean sauce and stir-fry for 2 minutes. Add the sake, cover, and cook until the clams open, about 5 minutes longer. Pour the clams and their juices into a large bowl.
Return the wok to high heat and add the remaining 2 tablespoons of canola oil. Add the watercress and stir-fry until crisp-tender, about 2 minutes. Add the udon, oyster sauce, and butter and stir-fry until the udon is evenly coated. Return the clams and any accumulated juices to the wok and stir-fry just until combined. Transfer to the bowl, garnish with the scallion and drizzle with chili oil. Serve immediately.
Serves 4.
Information
Category

Main Dishes, Shellfish

Cuisine

Other Asian