Recipe For Crispy Pork Cutlets With Arugula and Apple Salad
Fast & Easy Dinner: Crispy Pork Cutlets With Arugula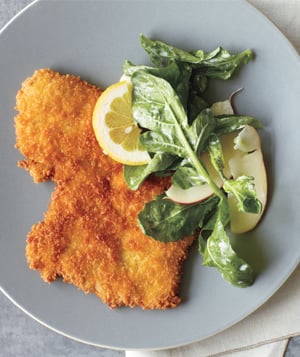 With chicken and beef starring in the most popular main courses, pork is the underdog of meaty dinners. But it's an affordable and juicy entree when prepared well, like in this recipe for crispy pork cutlets. I'm a fan of the light crunch panko gives my favorite dishes, and a breaded protein complements peppery arugula nicely, especially tossed with apples in a crisp and tangy salad.
Read more to see the under-30-minute recipe.


Crispy Pork Cutlets With Arugula and Apple Salad
Ingredients
1/4 cup all-purpose flour
2 large eggs, beaten
2/3 cup panko bread crumbs
4 thin pork cutlets (about 1 pound)
Kosher salt and black pepper
5 tablespoons olive oil
1/4 cup sour cream
1 tablespoon fresh lemon juice, plus lemon wedges for serving
1 bunch arugula, thick stems removed (about 4 cups)
1 apple, thinly sliced
Directions
Place the flour, eggs, and panko in separate shallow bowls. Season the pork with 1/2 teaspoon salt and 1/4 teaspoon pepper. Coat the pork in the flour, then in the eggs, and finally in the bread crumbs, pressing gently to help them adhere.
Heat 3 tablespoons of the oil in a large skillet over medium-high heat. Cook the pork until golden and cooked through, 2 to 3 minutes per side; transfer to a paper-towel-lined plate.
Meanwhile, in a large bowl, whisk together the sour cream, lemon juice, the remaining 2 tablespoons of oil, 1/2 teaspoon salt, and 1/4 teaspoon pepper. Add the arugula and apple and toss to combine. Serve with the pork and lemon wedges.
Serves 4.
Information
Category

Main Dishes, Pork