Recipe for Duck Legs with Grilled Plums
Duck, It's What's For Dinner Last weekend, I met up with some friends at a nearby butcher shop. The place is known for quality meats, and on this particular morning the duck legs looked mighty tasty. So I picked up a pair of them and went home for a cooking adventure.
I came across a recipe for roasted duck breast, but I adapted it to suit the legs. However, as much as I love dark meat, I think breasts would actually have been a better choice. It's a nice pairing of fresh plums and duck, and actually comes together in a short amount of time. To see how to put it together for yourself,
.
Note: Bon Appétit called this recipe "roasted," but I think they actually meant to say "fried in its own fat." The duck skin actually lets out quite a bit of grease, and if you're not careful it'll pool up. For my execution, I halved the recipe and used two duck legs instead.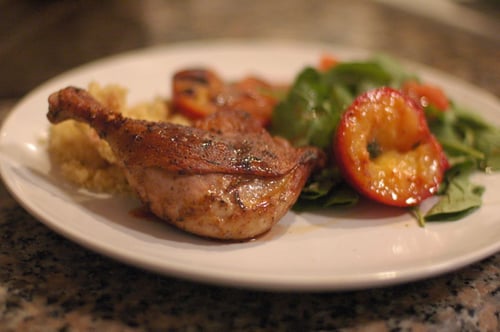 Duck Breasts With Grilled Plums
From Bon Appétit, June 2008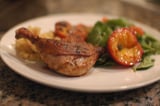 Ingredients
4 12- to 14-ounce boneless Muscovy duck breast halves, trimmed of excess fat
4 teaspoons chopped fresh thyme, divided
2 teaspoons freshly ground black pepper, divided
1 1/2 teaspoons salt, divided
6 firm but ripe Santa Rosa plums or other purple plums, halved, pitted
1 tablespoon extra-virgin olive oil
1/2 teaspoon sugar
Directions
Using sharp knife, score skin of duck breasts in crisscross pattern (cut skin only; do not cut through meat), spacing cuts 1 inch apart.
Sprinkle duck breasts on both sides with 1 teaspoon thyme, 1 teaspoon pepper, and 1 teaspoon salt. Cover and chill.
Prepare barbecue (medium-high heat) [I used an indoor grillpan on my stovetop].
Toss plum halves, olive oil, sugar, 1 teaspoon thyme, remaining 1 teaspoon pepper, and 1/2 teaspoon salt in medium bowl.
Grill plum halves, cut side down, until grill marks appear and plums begin to soften, about 4 minutes.
Turn plums over and grill, skin side down, until skin begins to soften but plums still retain their shape, about 4 minutes.
Transfer plums to bowl. Cover with foil and let stand while cooking duck.
Heat 2 large skillets over medium-high heat. Add 2 duck breasts, skin side down, to each skillet. Cook until skin is crisp and golden, about 7 minutes.
Turn duck breasts over and cook to desired doneness, about 8 minutes longer for medium-rare.
Remove from heat and let duck rest 5 minutes.
Thinly slice duck crosswise. Divide among plates.
Place 2 plum halves alongside each serving. Drizzle any plum juices from bowl over. Sprinkle with 2 teaspoons thyme and serve.
Makes 6 servings.
Information
Category

Poultry, Main Dishes