Recipe For Easy Chicken Tortilla Pie
Monday's Leftovers: Chicken Tortilla Pie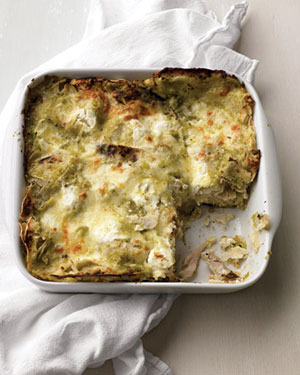 There's no better way to soothe the sting of Monday than with an easy, comfort-food dinner. Tonight, I'm using the tender, spicy leftovers from my braised chipotle chicken to make a quick, simple chicken and tortilla casserole. I'll pop layers of chicken, Monterey jack cheese, sour cream, tortillas, and salsa into the oven to create a satisfying, filling dinner in no time flat.
If you've got the energy, make your own salsa from tomatillos or fresh Early Girl tomatoes; if it was one of those Mondays, a jar will do just fine. Stick a couple cervezas in the fridge to chill, and check out the recipe below.


Ingredients
12 corn tortillas (6-inch), toasted
2 cups cooked, shredded dark-meat chicken
1 can (4 ounces) chopped green chiles
1 1/2 cups green or red salsa
1 cup sour cream
1 1/2 cups Monterey Jack cheese, shredded (6 ounces)
Directions
Preheat oven to 375 degrees. In an 8-inch square baking dish, layer 4 tortillas, 1 cup chicken, cup chiles, 1/2 cup salsa, 1/3 cup sour cream, and 1/2 cup cheese; repeat once. Top with remaining tortillas, salsa, sour cream, and cheese. Bake until top is browned and bubbling, 30 to 40 minutes.
Serves 4.
Information
Cuisine

North American