Recipe for Ellie Krieger's Easy Crab Salad With Mangoes
Reader Recipe: Tropical Crab Salad It's Dungeness crab season right now in San Francisco, and I can't wait to take advantage of the extremely fresh catch. After seeing TeamSugar member lengel's recipe for tropical crab salad, I already know what I'll be making with my crabmeat. With ingredients such as mangoes, avocados, cilantro, and radicchio, the salad looks crunchy, sweet, savory, bright, and zesty all at the same time. To see the healthy recipe,
.
Submitted by TeamSugar member lengel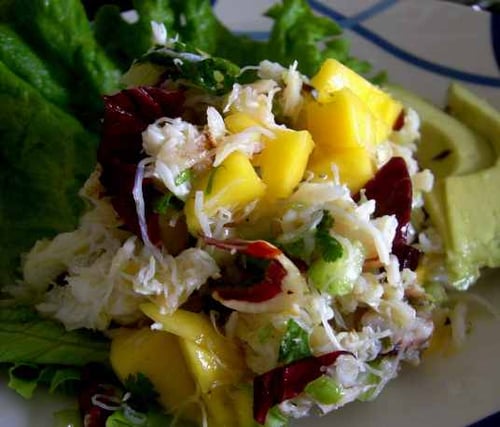 Healthy & Easy Crab Salad
Elie Kruger The Food You Crave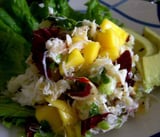 Ingredients
For the Salad
1/2 pound lump crab meat, picked over for shells and cartilage
1 stalk celery, finely diced (1/4 cup)
1/2 cup peeled and finely diced ripe mango
1/4 cup thinly sliced scallions
2 tablespoons coarsely chopped cilantro
1/4 cup coarsely chopped radicchio
For the Dressing
2 tablespoons fresh lime juice
1 teaspoon finely grated lime zest
1/4 teaspoon salt
1/8 teaspoon freshly ground black pepper
1/2 teaspoon red pepper flakes
2 tablespoons olive oil
Directions
In a medium sized bowl, gently toss together the crab with the celery, mango, scallions, cilantro and radicchio. For the dressing, in a small bowl whisk together the lime juice, lime zest, salt, pepper and red pepper flakes. Next, slowly whisk in the olive oil until an emulsion begins. Add the dressing to the salad and gently toss to combine.
Served any way you like!
Information
Category

Salads, Seafood

Cuisine

North American