Recipe For Fresh Tuna Salad With Pineapple
Sunday Dinner: Fresh Tuna Salad With Pineapple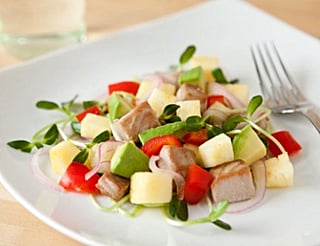 If you're anticipating a Memorial Day cookout, save stomach room for the burgers, hot dogs, and barbecued chicken that you'll be eating tomorrow. For dinner tonight, opt for something light to whet your holiday appetite, like a tuna salad.
This version certainly isn't your mom's lunchbox tuna salad. Its fresh approach calls for just-cut pineapple, sunflower sprouts, and oven-broiled yellowfin steaks.
The salad's oil free, but chunks of avocado supply creaminess. For a healthy break, read on.
Ingredients
2 fresh or frozen and thawed yellowfin tuna steaks (3/4 pound total), cut into chunks
1 avocado, peeled, pitted and chopped
1 red bell pepper, cored, seeded and chopped
1 cup sunflower sprouts or other sprouts
1 cup fresh pineapple chunks
1/3 cup thinly sliced red onion
3 tablespoons lime juice
Directions
Arrange a rack in the oven about 6 inches from the heating element and preheat broiler. Arrange tuna on a large, foil-lined baking sheet in a single layer and broil, stirring once or twice, until cooked through and browned in parts, 4 to 5 minutes; set aside to let cool.
In a large bowl, toss together tuna, avocado, pepper, sprouts, pineapple, onion and lime juice and serve.
Serves 4 to 6.

Nutritional information per serving (about 7oz/201g-wt.): 170 calories (60 from fat), 7g total fat, 1g saturated fat, 30mg cholesterol, 30mg sodium, 12g total carbohydrate (4g dietary fiber, 6g sugar), 18g protein
Information
Category

Salads, Seafood

Cuisine

North American