If you're not cooking a romantic dinner for two this Valentine's Day, then give this strangely delicious sandwich a shot. Made with salty, creamy brie and dark chocolate, this panini is neither a full-on dessert or a savory entree, but the sticky, gooey results will have you licking your fingers anyway. I've been curious to try this ever since PartySugar featured it on the menu of her wine and chocolate tasting, so I whipped up a batch on the panini press the other day. I had a lot of leftover dark chocolate from the holidays, so I used that rather than the semisweet chips, which sounded too sweet. To see how it turned out and to get the recipe,
. In addition to swapping in dark chocolate, I also reduced the amount used on each sandwich, after making one panini and finding that the chocolate totally overpowered the cheese. To me, it's the combination of velvety chocolate and savory, decadent brie that makes this sandwich interesting. I also added more basil and left the leaves whole, just because I liked the look of it. Some of my friends found the basil too weird and said they'd swap in mint, which would also be good. Here's how I did it.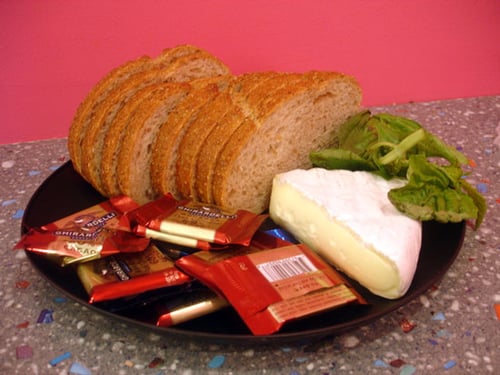 Ingredients
12 slices sourdough bread
1/3 cup extra-virgin olive oil
12 ounces Brie cheese, thinly sliced
10 ounces dark chocolate squares
2/3 cup fresh basil leaves
Directions
Preheat the panini grill.
Using a very sharp knife, cut the chocolate squares into bite-size pieces.

Brush both sides of the bread with olive oil. Grill the bread slices until they begin to turn golden, about 1 to 2 minutes.
Remove from the panini grill and place 2 ounces of cheese on 1 slice of bread (the bottom half), top the cheese with 1/4 cup chocolate chips, and a few leaves of basil. Top with another slice of bread. Continue with the remaining sandwiches.

Return the sandwiches to the panini grill until the chocolate begins to melt, about another 2 minutes.

Cut the sandwiches into 2-inch wide rectangles or small triangles and transfer to a serving platter.
Serves 6.
Information
Category

Main Dishes, Sandwiches