Recipe For Greek-Style Vegetable Kebabs With Orzo and Feta
Sunday BBQ: Greek-Style Vegetable Kebabs With Orzo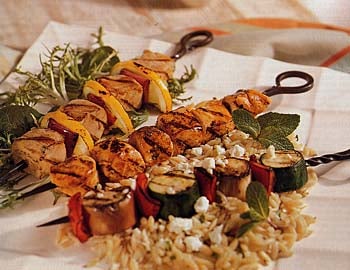 While it's true that tomatoes and corn take up most of the seasonal spotlight this time of year, it would be simply criminal to overlook some of Summer's other standout vegetables.
Take zucchini. Right now, this vegetable isn't just at its peak; it's also abundant and therefore affordable. Zucchini has a hint of an herbaceous flavor and a tender texture.
Make the most of its characteristics by dressing it lightly and charring it on a stick along with grilled eggplant and red bell pepper. For a straightforward Mediterranean supper, serve the kebabs atop orzo pasta, passing feta cheese around during the meal to sprinkle on top. For the recipe, read on.
Greek-Style Vegetable Kebabs With Orzo and Feta
From Bon Appétit
Ingredients
8 tablespoons purchased Greek-style vinaigrette
2 tablespoons minced fresh mint
1/2 cup orzo (rice-shaped pasta)
1 red bell pepper, cut into 1-inch square pieces
3 Japanese eggplants
2 medium zucchini, cut into 1/2-inch-thick rounds
1/2 cup crumbled feta cheese
Directions
Prepare barbecue (medium-high heat). Blend vinaigrette and mint in small bowl for dressing. Cook orzo in medium saucepan of boiling salted water until just tender but still firm to bite; drain. Return orzo to same pan. Mix in 3 tablespoons dressing. Season with salt and pepper.
Thread bell pepper, eggplant and zucchini onto 4 metal skewers; brush with dressing. Grill vegetables until tender and just charred, turning and brushing often with dressing, about 12 minutes.
Divide orzo between 2 plates. Place vegetable skewers atop orzo. Sprinkle with cheese and serve.
Serves 2.
Information
Category

Main Dishes, BBQ

Cuisine

Greek