Recipe For Grilled Bass With Green Tomato and Watermelon Salsa
Sunday BBQ: Grilled Bass With Watermelon Salsa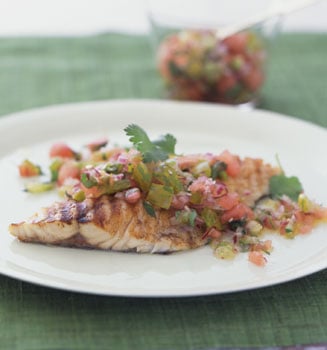 Red meat and chicken have long hogged the spotlight of the grill, and with good reason: their robust, iron-rich flavors hold up well to the smoke of the barbie. When cooking out, however, be sure not to overlook the fruits of the sea. While fish tends to be flakier and lighter, its delicate flavors are brought out by the char of the grill.
Light up the barbecue for a quick-cooking fillet of sea bass, smoldered skin-crisp, then top with a watermelon and green tomato salsa that screams summertime.
For the most sustainable seafood option, reach for farmed striped bass and avoid Chilean sea bass at all costs. Want the recipe? Read more.
Grilled Bass With Green Tomato and Watermelon Salsa
From Gourmet
Ingredients
1-1/2 cups finely chopped green tomatoes (1/2 lb)
1-1/2 cups finely chopped red watermelon
2/3 cup minced red onion
1 (2 1/2- to 3-inch) fresh red or green chile such as Thai or serrano, minced (including seeds)
1/4 cup chopped fresh cilantro
1 teaspoon fresh lime juice
3/4 teaspoon salt
6 (6-oz) center-cut pieces striped bass fillet with skin or mahimahi (1 inch thick)
1-1/2 tablespoons olive oil
Directions
Prepare gas or charcoal grill for cooking. If using charcoal, open vents on bottom of grill, then light charcoal. Charcoal fire is medium-hot when you can hold your hand 5 inches above rack for 3 to 4 seconds. If using a gas grill, preheat burners on high, covered, 10 minutes, then reduce heat to moderately high.
Toss together tomatoes, watermelon, onion, chile, cilantro, lime juice, and salt. (Do not make salsa more than 1 hour ahead or it will become watery.)
Pat fish dry, then brush with oil and season with salt. Grill fish, starting with skin sides down, on lightly oiled grill rack, turning over once, until just cooked through, 8 to 9 minutes total. ·If you aren't able to grill outdoors, fish can be broiled 4 to 5 inches from heat, turning over once, 10 to 12 minutes total. Serve fish topped with salsa.
Serves 6.
Information
Category

Main Dishes, Fish

Cuisine

North American