 With this grilling-centric holiday upon us, I'm looking beyond burgers and dogs and drooling over gourmet sausages. I love the traditional toppings of grilled onions and red peppers, but rather than use a bun, I like to split the sausage in half and toss the goods onto some fancy-schmancy artisan bread for a surprising sammie that tastes like Summer. I'm lucky enough to live near Rosamunde Sausage Grill, which sells a delicious chicken-cherry sausage, but I recommend any salty-sweet combination, such as chicken-apple sausage, for this recipe. To see how it's made,
.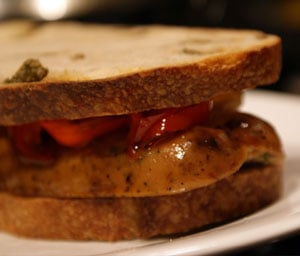 Grilled Gourmet Sausage Sandwich on Olive Bread
Original recipe
Ingredients
1/4 cup thinly sliced yellow onion
1/4 of a red bell pepper, sliced into thin strips
1 tablespoon olive oil
1 gourmet sausage, such as chicken-apple
2 slices artisan bread, such as olive bread
1 tablespoon Dijon mustard
Directions
Preheat the grill to medium.
On the grill, cook the sausage, turning occasionally, until cooked through, 10 to 12 minutes. Remove from heat and place on a cutting surface. If desired, toss bread slices on the grill for a few minutes to toast.
Meanwhile, on the stove, heat the olive oil in a skillet over very low heat. Add onions and red peppers and cook slowly, for about 15 minutes, until onions are tender and brown.
Split the sausage in half lengthwise, so that it forms two thinner pieces of equal length.
Place the sausage split-side down on one slice of bread. On the other slice, spread mustard. Top sausage with peppers and onions, and place the second slice mustard-side down on top.
Makes 1 sandwich.
Information
Category

Main Dishes, Sandwiches

Cuisine

North American