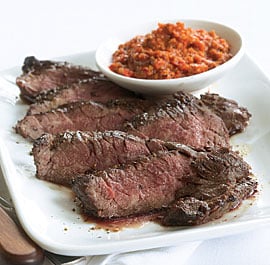 If someone were to ask me which condiment deserves the title of most underrated sauce, I'd probably say romesco, the classic sauce from Catalan that's made from dried, roasted red peppers, almonds, and olive oil. Romesco adds spectacular smokiness to just about anything, and that includes bold proteins. Use it as an accompaniment for unadorned steak, freshly charred from the barbecue; serve grilled asparagus and scallions, which also pair well with the sauce, with the meal. For the speedy Summer recipe, read on.
Ingredients
1-1/4 to 1-1/2 lb. skirt steak, trimmed
Kosher salt and freshly ground black pepper
1 thin slice white sandwich bread, darkly toasted
2 Tbs. toasted sliced almonds
7.5-oz. jar roasted red peppers, drained (3/4 cup)
1 tsp. sherry vinegar
1/8 tsp. crushed red pepper flakes
2 medium cloves garlic
1 Tbs. extra-virgin olive oil
1/2 tsp. smoked sweet paprika or plain sweet paprika
Directions
Prepare a medium-high grill fire. If you have one large piece of skirt steak, cut it crosswise, separating the thicker part from the thinner. Season the steak on both sides with salt and pepper.
Tear the bread into large pieces, put in a food processor, and process to fine crumbs. Add the almonds and process until coarsely ground. Add the roasted red peppers, vinegar, and pepper flakes and process until the mixture is fairly smooth, about 1 minute.
Chop the garlic and sprinkle with 1/2 tsp. salt. Using the flat side of a chef's knife, mash the garlic to a paste. In a 10-inch skillet, heat the oil over medium heat. Add the garlic paste and paprika and cook, stirring, until the garlic is fragrant but not browned, 20 to 30 seconds. Add the pepper mixture and cook, stirring, until heated through and thickened slightly, about 2 minutes. Set aside at room temperature.
Grill the steak, covered, turning occasionally, until an instant-read thermometer inserted into the thickest part reaches 130°F for medium rare or 140°F for medium, 4 to 8 minutes. (The thinner pieces will take less time. Be careful. overcooked skirt steak is tough.) Move the steak to a cutting board and let rest for 3 minutes. Cut each piece crosswise into 4- to 6-inch-long pieces and then, holding your knife at a slight angle, cut each piece across the grain into thin slices.
Serve with the sauce.
Serves 4.

Nutrition information (per serving): Calories (kcal): 360; Fat (kcal): 18; Fat Calories (g): 160; Saturated Fat (g): 5; Protein (g): 30; Monounsaturated Fat (g): 10; Carbohydrates (g): 14; Polyunsaturated Fat (g): 1; Sodium (mg): 780; Cholesterol (mg): 60; Fiber (g): 1.
Information
Category

Main Dishes, Beef

Cuisine

Spanish/Portuguese