Recipe For Grilled Vegetables With Halloumi
Meatless Monday: Vegetables and Halloumi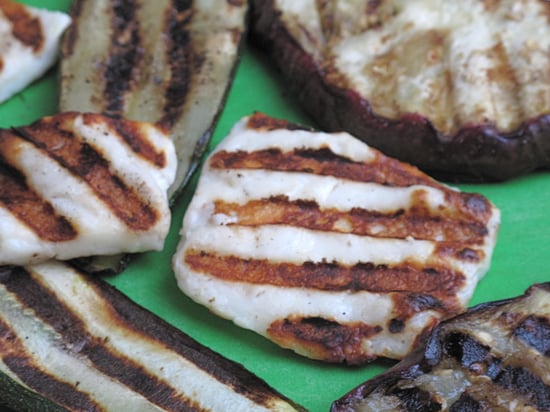 As a 2011 culinary New Year's resolution, we have been all about eating more meatless meals; they're not only better for our wallets and our health but also have less of an impact on the environment.
Not ready to commit to vegetarianism full-time? You can still make your mark by partaking in meat-free Mondays or vowing to eat less meat. One of my favorite fast and easy dinners is this hearty meal of grilled halloumi cheese and vegetables, topped simply with a sprinkling of cumin and a squeeze of lemon for a blast of exotic flavor.
If it's too cold outside to grill, you can easily adapt the recipe by oven-roasting the cheese and vegetables. Halloumi is a Cyprus cheese that is easily fried or grilled; if you can't track it down, substitute paneer instead. Go veggie for one night when you read more.
Ingredients
1 medium eggplant
1 large zucchini (see above)
Salt
2 tablespoons of olive oil
Juice of 1/2 a lemon
Ground cumin, for dusting
4 ounces of halloumi cheese, thinly sliced
Directions
Thinly slice the vegetables lengthwise. Salt the eggplant, leaving it in a colander for 30 minutes or so, and then rinse and pat dry.
Light a grill to medium-high. Mix the olive oil with the lemon juice. Dust the vegetables very lightly with the ground cumin. Pour the olive oil mixture over the vegetables and put on the grill for a few minutes on each side.
As they start to turn a light gold, take them out and put the halloumi on top and then give them another few minutes until the cheese has softened and turned golden.
Serves 2.
Information
Category

Cheese, Main Dishes